Posted on
NEMO opens satellite warehouse at Noel, Sandy Bay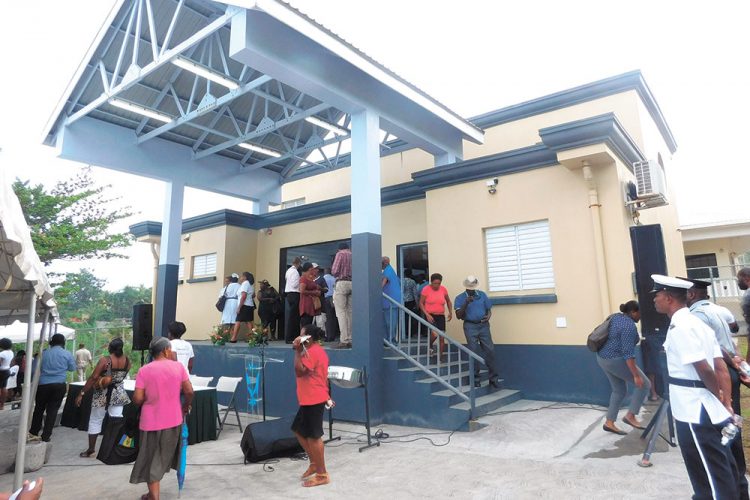 Residents north of the Rabacca River can rest assured that they will be taken care of, should the area be cut off from the rest of the island during a natural disaster.
A satellite warehouse, housing essential disaster equipment was opened at Noel, Sandy Bay on Tuesday.
It is one of six warehouses to be built in St Vincent and the Grenadines to help strengthen resilience in areas that are most vulnerable during natural disasters.
Prime Minister Dr Ralph Gonsalves, while speaking at the opening ceremony, gave an overview on the placement of the satellite warehouses.
"You don't know whether the bridge somewhere about is going to be destroyed, whether some of the roads will become impassable, so we must have in the various districts, a sufficiency of real equipment and materials to help the people recover swiftly. That's what these satellite warehouses are about. To strengthen our resilience, to help to protect us better and to help to save lives," he said.
While referring to past natural disasters, he described current weather systems using three Us; unfamiliar, unpredictable and unprecedented in frequency and severity.
He also highlighted several materials that were in the warehouses and he said that food would also be placed in warehouses when a natural disaster is expected to hit.
Parliamentary representative, Montgomery Daniel said that North Windward is one of the main constituencies that have recorded and experienced all types of disasters.
He said that the constituency is affected by the North East trade winds, which make the effects of hurricanes and storms worst.
Daniel also noted that the area was situated close to the volcano and was prone to flooding.
"Disaster management is by no means is an easy task for when persons are in distress, solutions do not come easy. When families lose a house or when they lose a loved one and nothing seems to be favourable and forthcoming, such responses could be a nightmare," he said.
The warehouse at Sandy Bay is expected to service communities from Rabacca to Fancy.
Michelle Forbes, the director of the National Emergency Management Organization (NEMO) said that Sandy Bay and Rose Hall are the two vulnerale communities to have satellite warehouses opened this week.
She added that these areas were prone to getting cut off from the rest of the island in times of natural disasters for hours or days at a time.
Local architectural firm, TVA Consultants Limited designed the warehouses and supervised their construction at a combined total cost of approximately EC$308,000.
Construction of the warehouses was done by Franco Construction Ltd and Williams Electronics Services of SVG. The warehouse at Sandy Bay was constructed at a cost of EC$814,794.55, while the cost of construction of the one at Rose Hall was EC$965,112.53.
The director said that the four other warehouses are being built at Georgetown, Mesopotamia, Union Island and Bequia.
Project manager, Richard MacLeish said that the project satellite warehouses are being built under the Regional Disaster Vulnerability Reduction Project. And it is being funded through a mixture of grants and soft loan from the World Bank, Strategic Climate funds, a pilot programme for climate resilience and the European Union.