Posted on
SVG honours veteran musician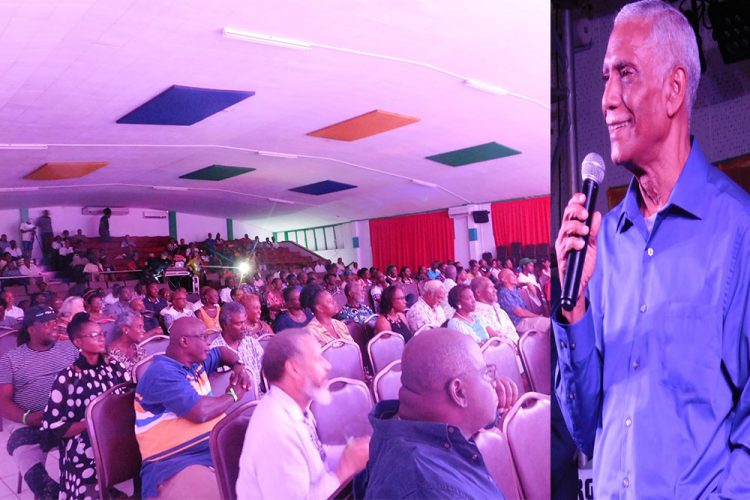 For Franklyn "Frankie" McIntosh, any award bestowed to him in his homeland, St Vincent and the Grenadines (SVG), is extremely special.
The Vincentian-born musical arranger and producer was honoured on Saturday at an event, Accolade, for his lifetime contribution to the development of music in Vincentian and Caribbean music.
"I'm very happy that so many persons are here because of late, Vincentians have been asking me, 'boy you still playing music? You still arranging?' And I tell them yes, I'm very active, quite active…but they don't seem to believe," he said. "Any award in St Vincent and the Grenadines or I should say, St Vincent my homeland, is always special because it comes from the roots, where I started."
The event, which took place at Russell's Auditorium, saw a number of musicians and artistes performing for the audience, including Alston "Becket" Cyrus, the majority of whose songs were arranged by McIntosh.
While performing some of his popular hits, Cyrus endorsed the event for honouring McIntosh, whom he referred to as "one of the greatest musicians the world has ever seen".
Damien "Boney Man" Noel, this year's secondary school calypso monarch also paid tribute to the arranger and producer, by performing Scorcher's 'Party Fever', a song arranged by McIntosh.
"I thank all the performers, the band. I don't want to start singling out anyone because they were all great but I must mention, little Boney Man…to hear him sing that song that I arranged for Scorcher over 40 years ago, it was really emotional to me to see a youngster singing that music," the honouree said.
And McIntosh thanked the organizations that made Accolade possible, for honouring him.
Accolade is an event put on by A &T Tannis Promotions in collaboration with the St Vincent and the Grenadines Association of Music Professionals (SVG AMP).
Arden Tannis, the founder of A&A Tannis Promotions said that this country is known throughout the Caribbean because of the contribution that McIntosh has made to Caribbean music.
He added that Accolade is an organization that will help develop and strengthen the music industry in the Caribbean through future initiatives.
This is the second year that the event has been hosted. Vincentian born artiste, Judy Boucher was the
first honouree.
Saturday's event saw performances by Vincentian gospel artiste, Hayden Billingy, junior calypso monarch, Kristian "Lil Kris" Christopher, 2018 queen of calypso, Joeana Christopher, calypso monarch, Zamfir "Man Zangie" Adams, Avenue Dancers, Judy Boucher, Barbadian gospel artiste, Lillian Lorde, pannist, Saeed Bowman and the Themes String Quartet.