Posted on
To make a dent in crime, we must put in the effort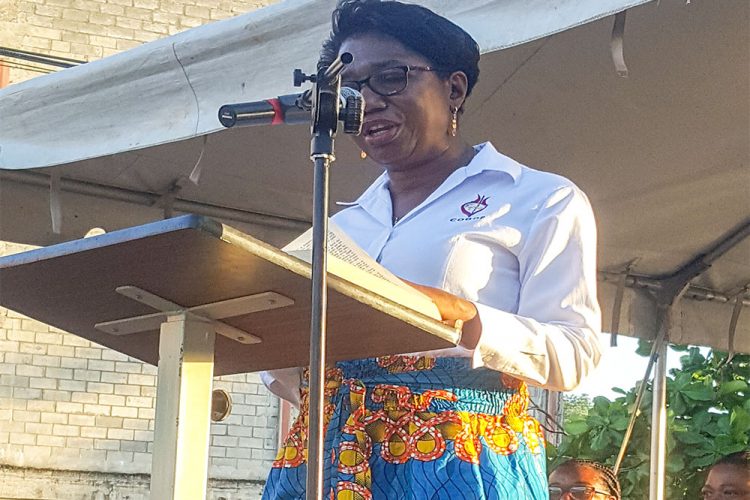 If we are to make a dent in the crime problem in the country, or any problem for that matter, we must stop playing the blame game says Pastor Cheryl-Ann Dublin.
"Expecting things to change without putting any effort is like waiting for your ship at the airport," Pastor Dublin said at Heritage Square on Monday while delivering a sermonette at the St Vincent and the Grenadines National Day of Prayer (NDOP) event.
Pastor Dublin said that as far back as Adam and Eve, the blame game was always the easiest to play as mankind is always looking for a scapegoat. She said that Adam blamed Eve and God when he disobeyed and ate the forbidden fruit while Eve blamed the snake for giving the fruit to her.
"Many years ago, in a family planning commercial, it use to start with, 'Who must I blame?' …someone or something else to blame for the troubles of the world…," Pastor Dublin stated.
"Today again we are still playing the blame game. We are still tossing around the blame and the state of crime in our country.
"Some say the state of the crime is because of the state of the economy, so blame the government they need to provide more jobs. Some say blame the youths them of today, their microwave mentality wanting everything now and not working for it is what is causing the crime," the pastor said to the gathering at Heritage Square.
She added, "some say blame the parents, for they are not putting in enough effort in training and instilling values and virtues in our children. They even come around to blaming the church, because they say we are not handling the issues that you want us to handle so blame the church".
But Pastor Dublin is of the view that instead of placing blame, we must look at ways to help situations and acknowledge God with prayer.
"Oswald Smith (a Canadian Pastor) diagnosed the situation for us and he puts a proper handle on it when he says, 'the heart of the human problem is the problem of the human heart…so the heart of the problem is the problem of the heart," the pastor said.
"We live in a culture where we want to mock the cross not realizing it is God's condition for deliverance," Pastor Dublin also opined.
She said that persons must turn to the Bible, scriptures and prayer and improvements will come.
The SVG National Day of Prayer (NDOP) was held under the theme "With God SVG will overcome" and heard from several other religious leaders including Reverend Kenwyck Lewis; chairman of the NDOP committee pastor Shawn Roberts; pastor Sylma McKenzie; and bishop Wendell Davis.
Brief remarks also came from Prime Minister Dr Ralph Gonsalves and Opposition Leader Dr Godwin Friday while entertainment was provided by several persons and groups including violinist Darron Andrews, Eric George from the School for Children with Special Needs, the McMaster Brothers (panists) and Stacy Lyttle.