Posted on
Suspended cop says he was beaten by Commissioner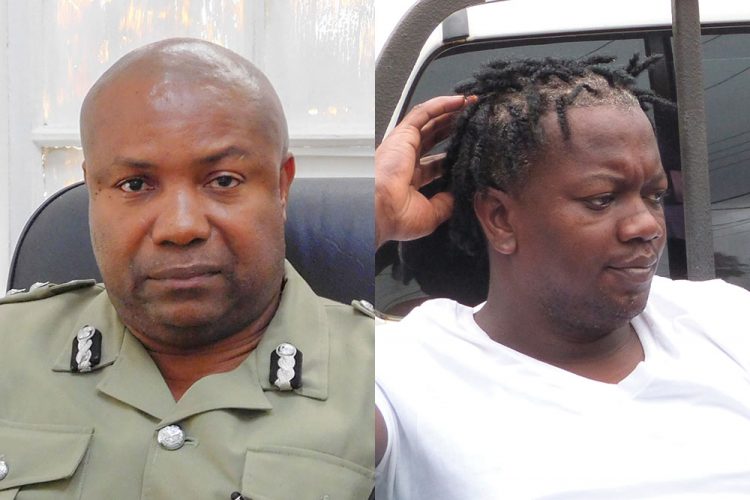 An allegation has been made that the Commissioner of Police (COP) was among a group of police officers who beat a junior officer so severely that the man bled from his head and may have fractured a rib.
Acting COP Colin John however maintained that he never hit constable Ettian Charles when he was contacted by SEARCHLIGHT on Wednesday.
"I never hit Mr Charles," he said.
Of the allegations, he said, "I'm surprised, I know I didn't hit him…"
The COP told SEARCHLIGHT that not only did he not hit the suspended policeman, but he did not see anyone else do so, nor did he observe Charles with any injuries.
John also said that Charles never complained to him that he was beaten or struck by anyone and no one had made any such report on Charles' behalf.
However, Charles, who was suspended from the police force after being hit with a burglary charge last year, and is one of five men recently charged with armed robbery and wounding, cited his injuries as the reason he should be given bail when he appeared in court on Wednesday.
"I am presently going through some medical problems due to corporal punishment which I received," Charles started by saying.
He said that on the night that he was picked up by the police (Saturday, September 15, 2018), he was beaten at his home, and that two officers had to take him from his kitchen to the transport in the road. He said he was then beaten again, and stripped down to his boxers.
"My conditions are worsening and sometimes I get dizzy," he told Senior Magistrate Rickie Burnett. He also mentioned that it seemed that one of his ribs was fractured.
This claim was reinforced by attorney Israel Bruce, who said that for the matters currently in court on that day, he was not the accused's lawyer. However, he is the accused's lawyer for another recent charge that Charles has for possession of an illegal firearm and ammunition, and in an ongoing burglary trial.
"I am aware through consultation with Mr Charles that he was savagely beaten. I have photographs of all the bandages all over his body from the Sunday night, and the blood still running from his head onto his shirt, even after he was given a shower upon the realization that I was coming to the station," the lawyer said.
He asked that an order be made that Charles get "proper medical attention."
"I mean the rest of this is going to bear out in the public sphere in a very ugly way and some people are not going to like it. Be that as it may, those people who engaged in the abuse of Mr Charles must be made to pay," Bruce continued.
"Police have no right to treat persons like this," the lawyer continued. He said that "the authorities" are not letting Charles get the proper medical attention and mentioned the possibility of his dying in state control.
After this interjection, Charles added, "the most beating I got was from the head himself, from the head of police," at the back of police transport.
"All of my wounds that I got is from Mr Colin John," the defendant claimed.
"When I complain with other officers they said that he was vex with me," Charles continued.
He also claimed that the COP punched him in his mouth just when he was stirring from unconsciousness, and that a senior officer had been beating the bottom of his feet with a baton as well.
"When I keep crying out for help … [they] beating me, beating me still, telling me shut up, shut up," the accused said.
Another accused Glenville Harry said that he was beaten at the same time as Charles, but he did not say who beat him. He too claimed injuries, saying that his fingers were squeezed, and that one of his ribs was hurting him.
The other accused persons mentioned family members who rely on their support, but nothing as what Harry and Charles had claimed.
Prosecution had objected to bail before, asking for two more weeks to complete the investigations which had become very wide, connected to other matters. They stated that a capital charge was to be brought before the court soon, and that they were still looking for some firearms.
After hearing the accused persons, Senior Prosecutor Adolphus Delplesche reminded that they were simply making allegations.
"Anybody can say Harry Bob beat me, Harry Bob is not on trial, persons who they are making allegations against are not on trial, so to use that to say that they want bail because somebody beat them, I respectfully submit your honour, that that is not really a ground," Delplesche stated.
"Our intention is that justice has to be balanced. They entitled to their justice, the state entitled to their justice also, so we have to balance it your honour, and your honour is in the seat of balancing," the Prosecution ended.
Bruce rose once more, saying that the right of bail ought not to be so trivially trampled on.
"You being the adjudicator must ensure that those constitutional rights are not trivially trampled upon so that of course the state has to be given all the necessary support to complete investigations, and the court must decide whether or not the period requested is a reasonable period in light of the foregoing," Bruce said, while addressing the magistrate.
After this Delplesche returned, "While it is a constitutional right, it is not an absolute right, the right is subject to certain conditions."
Bail was denied, and the five defendants, Glenville Harry, Elroy Rogers, Rocuan Robinson, Ettian Charles and Olrick 'Chucky' Hanson, returned to jail for a further week, until October 10.
The five are charged with the robbery of Dr Reisha Twana Browne-Caesar, consultant nephrologist at the Milton Cato Memorial Hospital on September 15. They are also charged with the armed robbery of Lisa Wilson of Brighton, and the wounding of Grafton McDowall of Brighton which took place the day before.
The senior magistrate told the prosecution to "get their house in order" by October 10.