Posted on
South Rivers resident is SVG's newest centenarian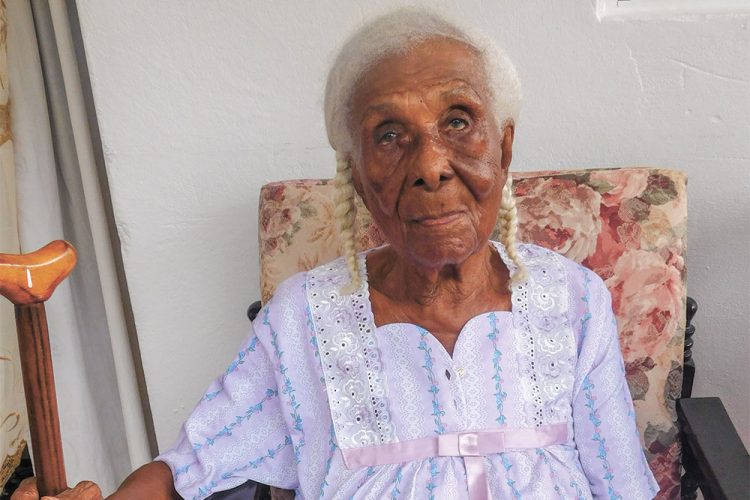 At 100 years old, Evelyn Hackshaw still remembers quite vividly what it was like growing up in the early 1900s.
The South Rivers resident is St Vincent and the Grenadines' most recent centenarian, having celebrated her birthday on Tuesday.
Hackshaw was born on September 25, 1918 and she is the only child still alive for her parents.
"When I was a young girl…we didn't have any pitch road. We didn't know nothing about fridge and stove and all those things," she told SEARCHLIGHT on Tuesday afternoon as she lounged in her porch at South Rivers, enjoying her birthday.
"[It was] firestone, you build a little thing and put three stones on it. We didn't have light, telephone, radio, we didn't have all those things in those days."
Hackshaw said that life was much easier when she was growing up, mostly because things were more affordable.
Giving examples, she said that one could have bought biscuits for a penny (two cents) and saltfish for "next to nothing".
She added that ground provision like potatoes and yams as well as river fish were always in abundance.
And she said that wattle and daub houses were very popular, with the occasional board cottage for the wealthier people in society.
The centenarian also told SEARCHLIGHT that her father was a butcher, who travelled to places like Panama and Cuba.
"Must be some of them meat that must be got me here," she joked.
In her lifetime, Hackshaw said she worked several jobs but that she "never do no hard work".
She said that she worked at the bank, in parlours selling drinks and in the homes of wealthy people.
Hackshaw never married and has four daughters — Margarita Spring, Laverne Hackshaw-Glasgow, Susan Hackshaw and Patsy Warrican.
She is also the grandmother of 16 children and great-grandmother of 18.
And she doesn't believe that there is any secret to living a long life; it is simply just the work of God.
"I know that Almighty God spare my life so I live to see 100 years," Hackshaw said, while pointing out the Pentecostal Church that she attends. "I feel good. I'm thanking God for the sparing of my life. I am still on the land of the living to give him praise and thank him for the years he lends onto me."
Now, the centenarian enjoys drinking coffee, eating half-ripe plantains or cooked English potatoes with tomato ketchup smeared over it and doing word puzzles.
Her daughter, Susan Hackshaw told SEARCHLIGHT that the entire family plans to celebrate her mother's milestone.
"I feel good. You can't get much people living to that age now. Most young people living fast and die young," she said.
She added that her mother wishes that the youth could be more loving towards each other and that there would be less crime.