Posted on
Suspended cop, 4 others charged with robbing doctor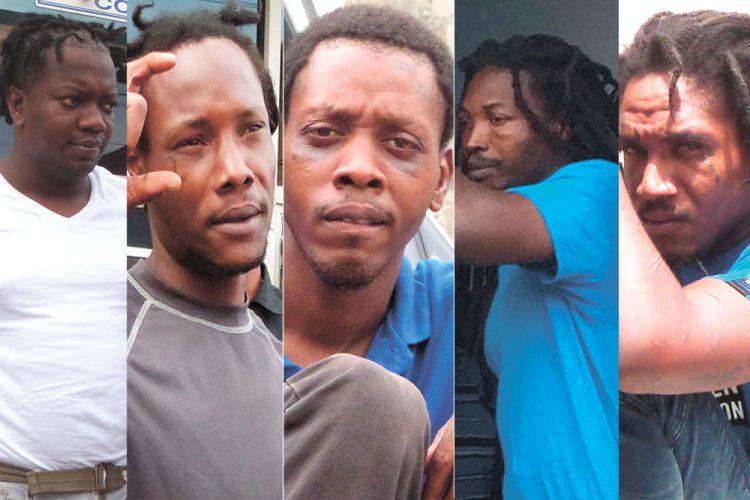 FIve men have been charged this week in relation to the robbery of a medical doctor and have been denied bail at the Kingstown Magistrate's Court.
Glenville Harry, a 34-year-old of Vermont, Elroy Rogers, 26 years of New Montrose, and Rocuan Robinson, 29 years of Campden Park, were charged with the offence of robbery before the Family Court on Tuesday. Yesterday, police officer Ettian Charles, 34 years, and Ulric Hanson, 27 years old, both of Sion Hill, were also charged with the same offence.
The charge reads that the accused persons did, on September 15, at around 9 pm, being armed with a gun, rob Dr Reisha Twana Browne-Caesar, a resident of Cedars, and took items worth EC$10,350.50 from her, as well as other documents.
On Wednesday, when Harry, Rogers and Robinson appeared at the Kingstown Magistrate's Court, Senior Prosecutor Adolphus Delplesche stated emphatically that he was maintaining his objection to bail for the three accused, and that they were looking for a four-month window before the start of the preliminary inquiry. He explained that the investigations into the matter "stretches very far, wide and deep," and that they touch and concern other investigations, "including capital offences."
"There has been a spate of these offences across St Vincent and the Grenadines," the prosecutor informed.
He stated that they are looking at the investigation as "the impetus" which can lead them to other reports of a serious nature.
If granted bail, he relayed that the investigators believed that this would hinder the investigations, and as such asked for a "few more days" so that the detectives could "scratch the surface."
"Fruits are there your honour," he assured, and that fruits would be produced.
Senior Magistrate Rickie Burnett asked for more clarification on "a few more days."
Delplesche responded that it was figurative, and that they would need more time than that, and that investigations would take "at least another three months."
He asked that the prosecution be given time to "put their house in order," in order to "protect the citizens" of SVG.
The three accused were asked if they had any submissions to make as the prosecution was objecting to their bail, and, as yet, they have no legal representation.
Harry revealed that he had an 11-year-old child who was going to "high school", and "I have my bar in Vermont." He said that as a citizen of SVG, he should be granted bail, and that he was innocent.
He said that they caught the "other guys with the things them," and that because those guys said he was there, he was charged. Harry said that he wouldn't mind reporting to the police station five days a week, if he got bail.
Robinson simply said, "I would say that I deserve to get a chance," and that he has a daughter.
Rogers only said that he agreed with the prosecutor, and that "the investigations could go on more."
Bail was denied for the three, to be reviewed in two weeks, on October 3. The preliminary inquiry is set to begin on January 14, 2019.
For the same or similar reasons as the senior prosecutor had expressed, bail was denied for Charles as well as Hanson.
Charles was also charged with illegal possession of a .38 pistol, and six rounds of ammunition.
Charles, Harry, Hanson, Rogers and Robinson were also indictably charged with wounding Grafton McDowall of Brighton, by striking him on his head with a gun, in Brighton, on September 14. On the same date these five are charged that they did, being armed with a gun, rob Lisa Wilson of Brighton, and took a cash machine valued at $1600, as well as $630 and US$115 in cash. All matters are adjourned for preliminary inquiry on the same date.
A report from the police said that last Saturday night, Dr Browne-Caesar was exiting her motor vehicle with her son in her arms, when two masked men, armed with a gun and a knife accosted her and relieved her of her handbag containing among other things, cash, an i-Phone and other electronic gadgets.
Dr Browne-Caesar is a consultant nephrologist at the Milton Cato Memorial Hospital (MCMH) and the wife of Minister of Agriculture and parliamentary representative for South Central Windward Saboto Caesar.