Posted on
John, Small release 'Love of Pan' music video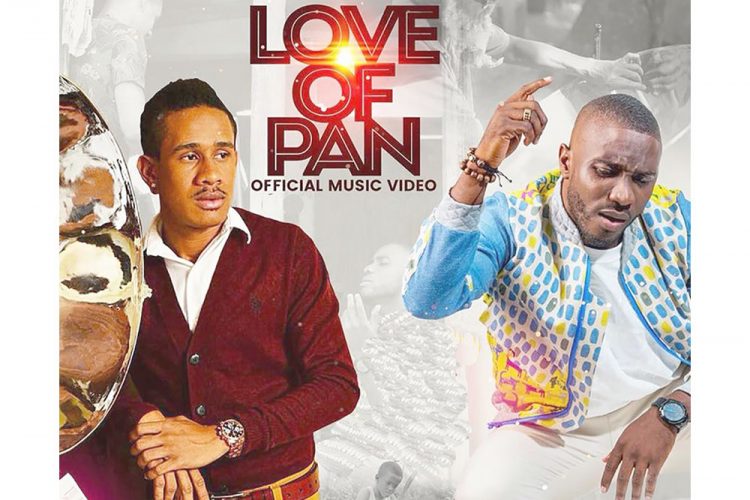 The music video for "Love of Pan" by Hance John and Rodney Small, tells a story of a young man, who, despite his trials, embraces what he was born to do.
"It was our intention, with this video, to help pan become more appreciated and accepted," Small told SEARCHLIGHT recently.
John and Small released the official music video for "Love of Pan" during a ceremony at the Russell's Cinema at Stoney Ground on Thursday, August 23.
The video has since been viewed by over 90,000 persons on social media. It depicts a young Rodney Small, played by Kaffin Clasp, being scolded by his mother (played by Sherise Clasp) for beating a bucket with a pair of sticks.
"I fed up of you with this every single minute, come and go shop now," the woman shouts in the video to which the young Small replies, "Yes, Mommy".
The video goes on to show the triumphs of being a pan player.
"Growing up", Small recalled, "I would beat anything I could find, pot covers, buckets, pans, anything and my mother would tell me to stop that and come and go pick up my book."
A resident of Sion Hill, Small said he was lured to the sweet sound of pan music as a child and would sneak into pan classes at the Girls' High School (GHS) to get a go at the instrument.
"This video is about this journey. I tried hard not to make it about me, but I couldn't help it but on a real, it is for all the pan players," Small said of the video that was filmed by Junior Lee of Precise Lee Films. He said that Kaffin (the young man in the video), also has a love for the instrument.
Small said that he, John and the producer, Kemuel Stapleton of Karbon Jamz, came up with the song and the concept for the video from their experiences but noted that initially, the project was just part of an album he was making.
He said the song and the video are meant to depict the struggles of pan players throughout the years and the result of hard work, dedication and discipline.
"Back in the days, if you went to court and were asked what you did and you said steel pan player, it didn't matter if it was a match stick you stole, you were going to jail…the struggles are over and the fight is coming to an end and I thank people who have been supporting this," Small told SEARCHLIGHT.
He added, "Pan is getting there. It better than it used to be because a lot more people are supporting and playing pan and attending the functions."
Small, who usually gets emotional but far from speechless when it comes to pan, opined that pan players are now on par with all other musicians and advises pan players to be committed and disciplined.
He said he is a product of the Sion Hill Euphonium Steel Orchestra and thanks persons like Francis "Pest" Llewelyn, Johnny "JP" Pompey and Sean Jack for his tutoring him and their years of work in the industry.
"I call myself 'The Steel Pan Boss', this is not about boasting or bragging. It is a state of mind and shows where I want to be," Small explained while adding that a Trinidad and Tobago version of the song is currently in the making.
The lyrics of the song, "Is music down in the pan yard, this vibes, it feeling so contagious, dem judges really have it hard, dem bands really come out to play now…," were written by John.
Commenting, the 2017 Ragga Soca King said in writing the song, he decided to put himself in the shoes of pan players.
"It was about being in the shoes of a pan player at Panorama, telling a story was the main idea in writing," John said of the song he considers a masterpiece.
He said the song is meant to bring a story alive by playing on the emotions and five senses of the listeners.
In part, it goes: "From the pan yard to Victoria Park, the bands dem lining up to play, supporters come from near and far, this year is only love and vibes…"
"This song really speaks and highlights the struggle of a brethren and pan players. Rodney highlighted his struggles and the song connects to that," John explained.
He, like Small, praised Llewelyn and added that the veteran pan man must be highlighted and honoured for his contribution to steel pan here.
The video features among others, pannist Jomoro Francis, Llewelyn and Chewallee Johnson.
During the launch of the video, Llewelyn was recognized by Small and John for his contribution to the artform.
"I do what I do because I love what I do, or I would not do what I do," Llewelyn said while adding that he loves to pass on his knowledge as pan can help students with their school work.
The track was mixed and mastered by Parry Jack. It can be viewed on YouTube.