Posted on
Opposition New Democratic Party takes steps against crime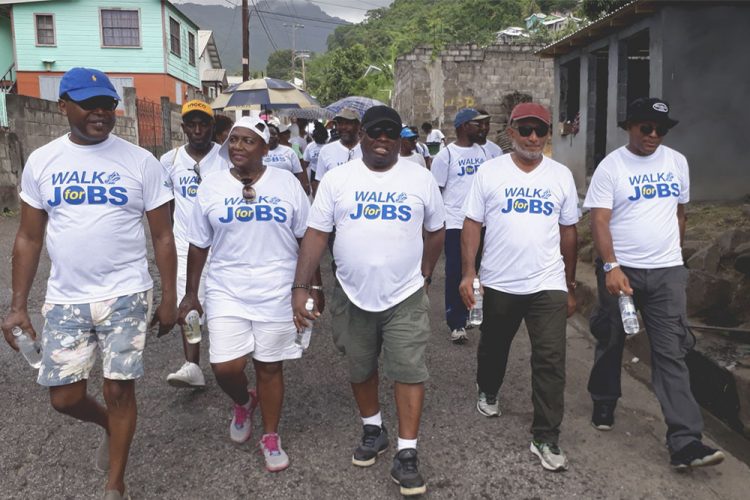 Members of the opposition New Democratic Party (NDP) walked for jobs and against crime on Saturday, traversing a distance of 22 miles from Fitz-Hughes in North Leeward to Party headquarters at Richmond Hill.
Sporting t-shirts with "walk for jobs" plastered on the front and "stop crime" on the back, the small group braved the blazing sun, with some walkers joining and others dropping out along the way.
Speaking at the starting point before the walk began, Leader of the Opposition, Dr Godwin Friday, spoke on the objective of the initiative.
"We are taking a step, quite literally, against crime, and to bring hope to the people of this country that we will do something about creating jobs," he began.
"This step that we're doing, we're leaving here in Fitz-Hughes to walk to Kingstown, it is an unusual step. But we are in unusual times, because this country is going backwards. when it should be going forwards, and so we take this step here today for the young people, for all those people who feel fear in their homes," he explained to those gathered.
He mentioned a disconnect between 'this Administration' and the people of St Vincent and the Grenadines, emphasizing, "This Government that we have in office here today, they seem not to have their priorities right, they are out of touch with what is happening with the people of this country."
Citing the day as a "day that brings hope," he predicted, "The people of this country will listen and they will see that in the New Democratic Party, that we take these matters very seriously."
Around the area of Coull's Hill, the Opposition Leader, when asked how the walk was going, said: "I think everybody is doing well, we're still managing to keep a good walk rate up, and we'll get there," Friday responded.
The group was also filmed in song near the closing of their walk, a chant forming using the melody of "When the Saints go marching in," the lyrics being replaced with "Oh yes we marching for jobs. Oh yes, you'd like to be in the number, when NDP marching for jobs."
Also commenting during the walk were Vice Presidents for the NDP, Patel Matthews and St Clair Leacock.
Leacock stating, "This morning I am walking towards a purpose, one as a team member and in support of the President's drive to walk against crime, as well as, more positive, to bring about jobs in St Vincent and the Grenadines…both are very ambitious but good calls you know, none more than the other."
Matthews took the opportunity to rebut some criticism, explaining, "A while ago when we started off this walk, a young man was making a comment, "You can't stop the crime, all yuh can't create the work," I said "Yes, but what we are doing is bringing awareness to the problem."
Member of Parliament for South Leeward, Nigel Stephenson also remarked, "I'm prepared to put my body on the line to bring awareness to the fact that crime is getting out of control in St Vincent and the Grenadines, and our young people with an existing 46 per cent unemployment among our youths."
He continued, "we know that if you have educated, unemployed people, you would have the potential for an educated, sophisticated, criminal society."
The second leg of this walk is scheduled to take place on Saturday, September 15, from the Rabacca Dry River to Kingstown.