Posted on
Consul General Fitz Huggins hands over refurbished ambulance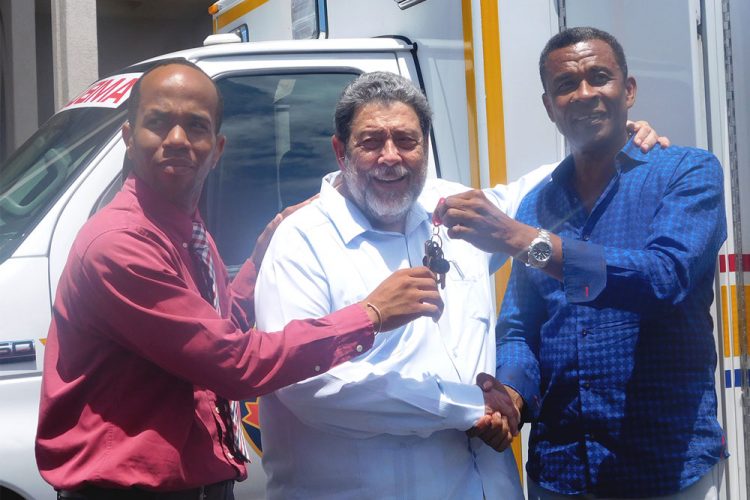 An ambulance donated by Hamilton Paramedic in Canada will strengthen the fleet of ambulances in this country, and help to improve the quality of healthcare.
The handing over ceremony for the vehicle took place on Friday.
Fitzgerald Huggins, St Vincent and the Grenadines' Consul General in Canada, spearheaded the donation and took the opportunity to thank everyone who contributed to making the handover possible.
"It's a six-year-old ambulance. It's retrofitted with all the amenities that will make it very functional," he said. "We should be taking care of it to ensure that we get at least five more years out of it."
The consul general explained that the city of Hamilton retires ambulances after six years, not because they are not functional, but for insurance purposes.
And he said that another ambulance from Hamilton has also been promised to St Vincent and the Grenadines.
The ambulance donated by Hamilton will bring the total number of ambulances in St Vincent and the Grenadines to 11.
Health minister, Luke Browne said that there are currently eight functional ambulances; two at the Milton Cato Memorial Hospital, one in Chateaubelair, one in Sandy Bay, one in Stubbs, one in Georgetown, one in Mesopotamia and one in Bequia.
"We have an additional two ambulances which were procured for the polyclinics and very soon we would be in a position to open the polyclinics so health would continue on its role, under the guidance of the prime minister, to expand the healthcare infrastructure in this country," Browne said.
Prime Minister Dr Ralph Gonsalves, in his remarks, revealed that the National Insurance Services ordered an ambulance for the Modern Medical and Diagnostic Centre in Georgetown.
While noting the expense attached to buying a new ambulance, Gonsalves expressed gratitude to Huggins for his work in procuring the ambulance and the city of Hamilton for the donation.
He said that landing a new ambulance could cost upwards of EC$400 thousand dollars.
"Of course, we can do with more and we'll always be looking to buy more and receive more as gifts but that is a far cry [from the] two or three ambulances as it used to be in the old days," the prime minister said. "I think we have made much progress and there is still more progress to be made. Because there is nothing like when you are sick and the doctor say you must go to the hospital by an ambulance and you can't find an ambulance."