Posted on
Who should lead conversation on LGBTQQ issue?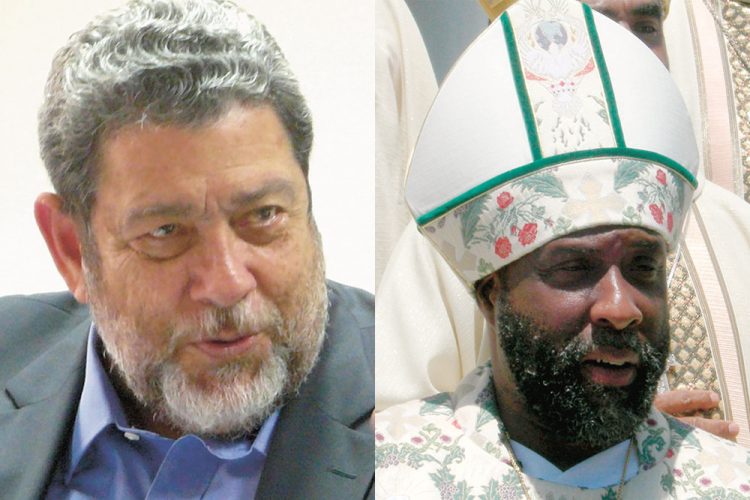 The government and not the church should start a conversation on homosexuality, says Bishop of the Windward Islands, the Right Reverend C Leopold Friday.
"Since the government is the one responsible for shaping and forming public policy with input from other sectors of society, I believe it is … for the government to initiate such a discussion," Reverend Friday told SEARCHLIGHT on Thursday.
The religious leader's comments come three days after Prime Minister Dr Ralph Gonsalves said the church or a non-governmental organisation (NGO) should start a conversation on the LGBTQQ (lesbian, gay, bisexual, transgender, questioning, queer) issue.
Gonsalves, speaking at a press conference at Cabinet Room commented on the LGBTQQ issue in response to a question about an attack on two transgender men in Calliaqua last weekend.
The men, believed to be gay, are part of a trio whose decision over the last few weeks to dress like women has stimulated discussions on radio and social media.
Two of the men visited the southern town of Calliaqua over the weekend, reportedly to enquire about renting a house, when they were beaten and chased by a group of residents. Part of the incident was recorded and the videos published on social media.
Police have launched an investigation.
The Prime Minister said the police will address the issue of crime against these individuals, but the national issue should not be led by politicians.
"A social and moral issue like this, it should be a freedom issue, a libertarian issue, it should be led by the churches," Gonsalves said.
But Bishop Friday, who is also President of the Christian Council here, said on Thursday, that the Prime Minister's comments have not been discussed by the Council, so he could not as yet, comment in his capacity as head of that organisation.
He however stressed that in his role as an Anglican Bishop of the Windward Islands, he does not think a national conversation is the duty of the church.
"The Anglican church has long shared its position on homosexuals and it is not for the church to tackle nationally," he said.
The bishop said that the Lambert Conference (A decennial assembly of bishops of the Anglican Communion) 1998, Resolution 1.10 on Human Sexuality speaks about the church's view on homosexuality which the church refers to as Human Sexuality.
Quoting from the resolution, Bishop Friday commented, "This conference, while rejecting homosexual practice as incompatible with Scripture, calls on all our people to minister pastorally and sensitively to all irrespective of sexual orientation and to condemn irrational fear of homosexuals, you should not use violence against them to try to hurt them in anyway."
The bishop said the church cannot advise on the legitimising or blessing of same sex unions nor the ordaining of those involved in same gender unions, but they request that a means be established of monitoring the work done on the subject of human sexuality in the Communion and to share statements and resources.
"We are willing to listen to people who have that experience and willing to listen to people who are that way," said Friday who added "from my own limited experience growing up, I have grown up with young people who from very young have those tendencies".
He said there are those who believe persons like this cannot change as it is an orientation and a state of being while there are those who believe they can.
"This is something we have to dialogue on with people in that field who would be able to give us guidance on that, but I don't think that we are generally saying that people who are that way should change, so it is important to have a conversation with them and to do so pastorally," said the priest.
He said the Prime Minister's suggestion that a conversation be had means that he thinks there is something to be gained from so doing.
The bishop said a national conversation would inform and enlighten people about homosexuality and would give the Government a better understanding of public opinion on the issue which may inform or influence public policy.
He said that while he has not seen the three transgender men who have stimulated the most recent debate, he has heard about them.
In his comments on Monday, the Prime Minister said he is not advocating an alteration in the laws but if we are to build further, a humane society based on humane values, the church is the appropriate institution to begin the conversation on LGBTQQ.
"I know that from the very fact that I have said the church should begin a conversation some persons may say well why Ralph don't start the conversation. Well I don't have to start every conversation," said Gonsalves.
He said there are many persons, including "a significant number of young persons" who are engaged in a lifestyle which would not be approved of traditionally and he has read where churchmen have come out in support of these persons and he was taken aback by the support.
"I have read where churchmen, the immediate past Anglican Archbishop in Barbados, about a year and a half ago in Jamaica…said he supports the decriminalization of homosexual conduct.
"…He said, which I didn't know at the time… the ban against homosexual behaviour is not biblically sanctioned…," Gonsalves stated while adding that church people in Britain and the United States are having same sex partners and same sex marriages.
"So, there are all kinds of contending viewpoints, so I am suggesting that this issue be placed in a wider context by the church or other NGOs to take it out of the realm of politics," Gonsalves stated.