Posted on
Roundup weed killer now prohibited in SVG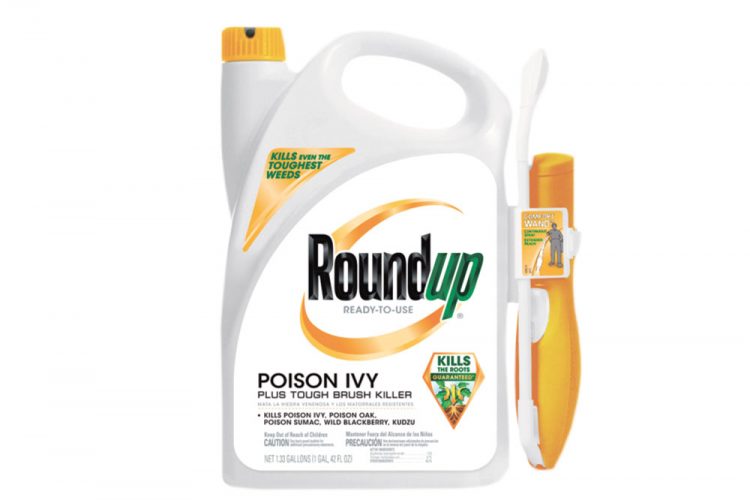 St Vincent and the Grenadines (SVG) has joined several countries around the world in banning glyphosate, the active ingredient in Roundup, the weed killer manufactured by Monsanto.
The importation of Roundup, Touchdown and Glyphos is now prohibited. The ban was announced yesterday by the Ministry of Agriculture.
Minister of Agriculture Saboto Caesar told SEARCHLIGHT that while we have been using these pesticides and herbicides for decades, particularly in the production of bananas to clear lands, they have now been banned given what has taken place elsewhere with the Roundup cases.
Most of the restrictions or bans on glyphosate throughout the world were introduced following the 2015 International Agency for Research on Cancer (IARC) report on glyphosate. The IARC report concluded that glyphosate is a "probable human carcinogen."
According to the report, the cancers most associated with glyphosate exposure were found to be non-Hodgkin lymphoma and other hematopoietic cancers. The report further concluded that glyphosate exposure caused DNA and chromosomal damage in human cells, as well as genotoxic, hormonal and enzymatic effects in mammals.
Other glyphosate studies have linked the chemical to a number of health issues, including, but not limited to ADHD, Alzheimer's Disease, Autism, Birth Defects, various forms of cancer, Celiac Disease, Colitis, Heart Disease, Inflammatory Bowel Syndrome, Kidney Disease, Liver Disease, and Parkinson's Disease.
Earlier this month, a jury in the United States awarded US$289 million to Dewayne Johnson, a former school groundskeeper who said Roundup left him dying of cancer.
Johnson, 46, alleges that heavy contact with the herbicide caused his non-Hodgkin's lymphoma and a state Superior Court jury agreed that Roundup contributed to Johnson's cancer and Monsanto should have provided a label warning of the potential health hazard.
But while many persons claim that there has been an upsurge in cancer in SVG, Caesar said no research has been done to show that glyphosate is responsible, but he thinks that a study should be done.
"I do not have a conclusive study to state that the rate of cancer in St Vincent and the Grenadines is directly pointing to pesticide or herbicide use. I do not have that, but it would be a very interesting research for us to do here and this is the type of academic exercises that we need as policy makers," Caesar told SEARCHLIGHT.
He added, "I am certain that the Ministry of Health, being a part of the Pesticides Board will be looking to see if there is a correlation but, in the meantime, we must act decisively."
The Minister said that this country has, over the years, been working with several international agencies which consider some pesticides to be borderline and the reviews are ongoing. He stressed that scientific research and the findings coming out of the Roundup cases have triggered concerns throughout the world of agriculture production.
"We have evidence that we have lost a lot of our wildlife here in St Vincent and the Grenadines because of the usage of these chemicals," stated Caesar who added that this ban is an opportunity for SVG to emerge as a country which has a plan and a program to promote the production of foods which are safer in accordance with the international thrust towards organic production.
"Countries that have moved towards organic production are witnessing increased profits for their farmers and in the case of St Vincent and the Grenadines where we are a small island developing state with limited land space, we have to try to see how best we can produce goods that can be marketed as high end goods", said the agriculture minister.
He said that agricultural commodities that are organically produced fetch a premium price.
"This is one of the positives that come out of this. However, it has to be carefully studied because it is a very delicate matter as farmers rely on these chemicals to clear the land and we have to have sustainable alternatives."
Caesar stated that the Fairtrade community in SVG has advocated that persons utilize more weed eaters and there is already a request from an agent seeking concession on the importation of such equipment.
"Here we are already seeing a policy already taking frame whereby St Vincent and the Grenadines can market their commodities as premium, as at least Roundup free, glyphosate free and Touchdown free and all the products containing glyphosate," said Caesar.
He added, "I really want stakeholders to appreciate what we are doing, and it is for the betterment of the country, especially the farm workers who are exposed daily," noted Caesar who said that this country is a leader in the promotional advancement of agriculture.
"We don't mind taking leadership in this and we are encouraging other islands in the OECS to do the same," said Caesar who added that the Government is seeking further technical advice from the FAO, CARDI and IICA.
The Government has also written to the OECS secretariat so that the new policy in SVG could be officially communicated to all the ministers of agriculture in the OECS.
Businesses who still have these banned pesticides in stock may still offer them for sale, but would not be allowed to import when the current stock runs out.
"I am advising persons to ensure that they take their safety as matter of first importance and employers make sure employees have the proper safety gear if they have to use these substances," stated Caesar.