Posted on
Arthur Williams laid to rest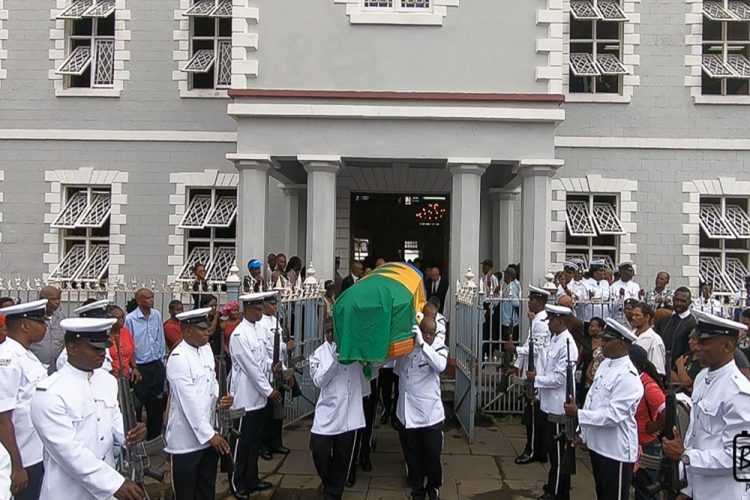 Family, friends and colleagues gathered at the Kingstown Methodist Church last Saturday to pay their final respects to Arthur Williams, a former attorney general and member of Parliament, who was laid to rest in an Official Funeral.
The funeral took place one day after a viewing of Williams' body was held at the House of Assembly.
Barrister-at-law, René Baptiste delivered the eulogy which chronicled Williams' life as a lawyer and politician and some of her personal encounters with him.
"It was not the first time I was hearing about Arthur Williams. He had captured the spirit of the people. People would say – Arthur Williams – he's smart, he is bright; he is quick; he is a nice man; a helpful man; a fighter; he would wrestle with you; a no-nonsense man; a gentleman; a faithful man," Baptiste said, as she took those in attendance to 1974 when her mother wrote to tell her about the political climate in the country at the time.
She continued; "…That was what I heard about him. This was the man I knew. I was excited to know him. To meet him".
Baptiste said that Williams was a past student of the St Vincent Grammar School who had a love for cricket and playing the sport as well.
The barrister added that her mother referred to the former attorney general as the "brightest lawyer of his day". And he was the first back then to earn a Master of Law degree.
"He gave up his Private Law Practice when he became Attorney General," she said. "He did not close his Private Practice Office. He had a skeleton staff there and they worked on his other ventures.
He had moved from Advocate for clients to Advocate [for the] people of St Vincent and the Grenadines before the Bar and in parliament."
She paid special tribute to Williams' wife of 55 years, the former Mavis Hadaway. "Tall, slender, stately, beauty queen like, poised, classy, dreamy green eyes. A gem of woman. Arthur adored her. He loved to see her happy. Cheerful. She was his biblical Ruby."
Baptiste, who is also the president of the Bar of St Vincent and the Grenadines said the decision was made last year to honour Williams at the OECS Council meeting for his long, outstanding and distinguished career at the Bar in St Vincent, Grenada, BVI and Dominica.
"The plaque proudly displayed is in his office. Expressions of sympathy have come to our Bar from every island in the Caribbean. The legacy will continue," she said. "The Foundation is strong and well-built. We will miss him. We will miss him. He came. He saw. He conquered. May his soul rest in peace."
Williams' funeral service was officiated by Reverend Adolf Davis. Sir Errol Allen, Sir Vincent Beache and Williams' grandchildren all delivered tributes and Prime Minister Dr Ralph Gonsalves also delivered remarks.
Williams was laid to rest at the Kingstown Cemetery.