Posted on
Cops seize quantity of drugs and currency from shop in Colonaire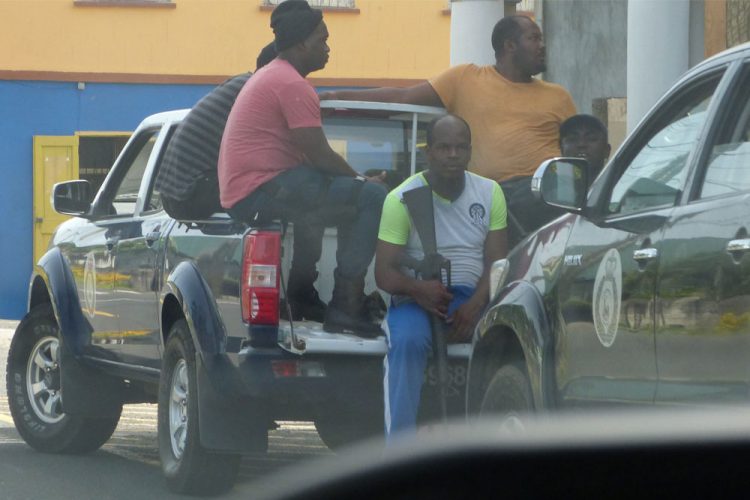 A squad of police officers conducted a raid on a bar in Colonaire this Wednesday morning, taking the owner into custody, and seizing a quantity of drugs and currency.
SEARCHLIGHT understands that a party of around ten police officers, with warrant in hand, visited the 'Atlantic Breeze Bar & Grocery', which is being run by 40-year-old Jennifer 'Jennie' Samuel.
Samuel took over the shop and bar, which apparently sells items wholesale as well, from her father, known as 'Barbers', and has apparently been running it for some time now.
An individual who was present at the scene estimates that the police spent multiple hours at the bar, leaving after 12 noon after descending in the early morning.
When the police first arrived, they were said to have met Samuel, and about eight persons who were drinking at the shop.
The witness said that they searched everyone who was in the shop at the time, and then asked most of them to leave.
The police then searched the shop continuously for a while, before they started counting the money at the shop to see how much money it was, and then taking the money away, the witness said.
Reports are that during the search, marijuana was discovered around the shop. As it relates to the money, the individual stated that the police "check and check, and check and check, till they fed up."
A member of the community commenting on how long the police took to check the money, stated, "cah remember ah nuh, the girl nah ah sell one ting you know? The girl ah sell wholesale… and the girl ah sell other different things, like snacks, and you know what I mean? Wholesale rum, whole beers…"
Samuel was brought to the Serious Offences Court yesterday and was charged with the possession of 433g of cannabis, but was reprimanded and discharged. Her attorney Grant Connell mitigated that Samuel uses the drug for medical reasons, and commented that she was in the "privacy of her own home."
Samuel pled 'Not Guilty' to two other charges of possession of 162g and 690g of marijuana. She was given bail in the sum of $1,500.