Posted on
Over $300,000 worth of materials stolen from Kendra's Aluminium Ltd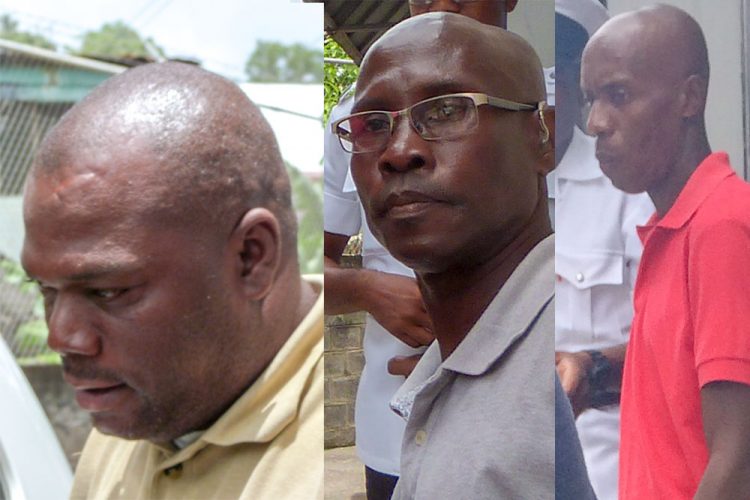 Three men have been charged with stealing over $300,000 worth of materials from Kendra's Aluminium Ltd, their alleged discrepancies starting in the year 2014.
Devon Jack, Conroy Trimmingham and Philbert Regis appeared at the Serious Offences Court yesterday, and were charged that they did, between January 1, 2014, and March 26, 2018, in Campden Park, steal aluminium windows and door parts worth $320,000, the property of Kendra's Aluminium Ltd.
The charges were laid indictably against the men, who were not required to plea.
Senior Prosecutor Adolphus Delplesche did not object to bail for the three men, but asked that they surrender travel documents.
He asked that the matter be set to a date three months away "in the circumstances," so that the file would be ready. He informed that the investigating officer, Corporal Chambers, indicated that he would have 15 witnesses at the end of the investigation.
Defense Attorney for Trimmingham, Grant Connell, who also stood as the attorney for bail for Jack, was of the opposite view, and wished to have the matter be dealt with quickly.
He said that the defense was looking to take the route of a paper committal, and asked that in light of this, the matter be put for next week.
He stated that the defense was "privy to a certain document," and that the complainant in the matter had signed to a particular agreement.
Speaking about the complainant, he said, "When they come to court they must come with clean hands," and that they couldn't "close one eye and keep open the other one, and then use the court as a convenient tool."
Connell asked that all agreements with any nexus to the case be attached to the papers for the paper committal.
He asked that bail not be set in the amount of the value of the items in the charge, as, with regard to a surety, "very few people can meet that before this honourable court."
He asked for bail with conditions that "these three poor men can do."
Chief Magistrate Rechanne Browne-Matthias said that in light of the comments made by Connell about an agreement, that she was a "little concerned at this juncture with regard to this matter."
She indicated that she did not intend to ask for $300,000-plus for the bail sum.
Bail was instead set in the sum of $30,000 each, with one surety, and an order made for ID, travel documents and driver's licenses to be surrendered.
Jack, a Layou resident, Trimmingham, from Calder, and Regis of Redemption Sharpes, were ordered to report to the police station closest to them, three times a week.
The matter was adjourned to September 10.