Posted on
94-old-year old woman claims to be harassed by man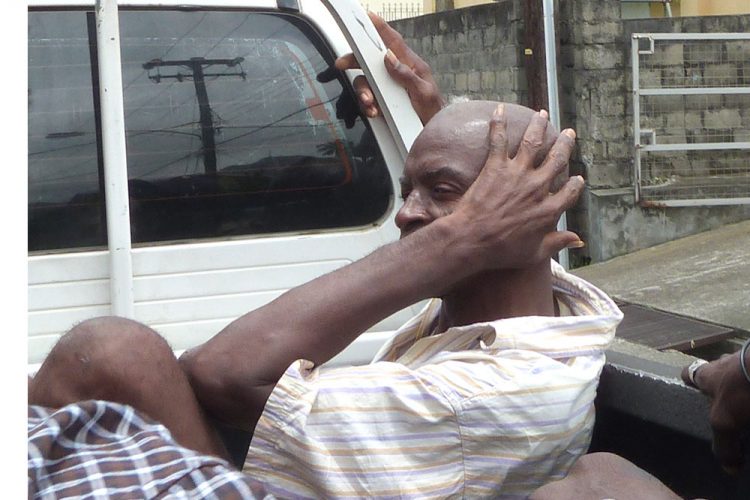 It was cane versus pipe this week, as a 94-year-old woman hobbled before the magistrate alleging that one 'Pipes' wants to send her to an early grave with his antics.
Keturia 'Tanty' Williams just turned 94 last Sunday, and her age was greeted with a wave of disbelief in the courtroom, one prisoner announcing "God bless you." Despite her age, and the physical challenges as a result, someone having to help her stand, Williams was determined. She leaned against the witness box, armed with her walking cane and an intense frustration, ready to give evidence.
Her apparent issues with the man in the dock facing her, Glenroy 'Pipes' Caesar, seemed to be many, but Caesar was charged with two offences before the court.
On March 24 of this year, the defendant, 54 years, is alleged to have damaged two mops, and six blocks, worth $39.75, belonging to Williams of Kingstown Park. Most recently, he is alleged to have trespassed on Williams' property on July 16.
As for the elderly woman's story, she began telling it with feeble voice, timidly explaining that on March 24, "Well, he (Caesar) went mad."
Williams said that Caesar, "start some dirty swearing…I wouldn't even talk about it…getting on with some four letter words."
While storming around, Williams said that Caesar threw away water, threw the mosquito coverings next door, and went on the steps to break the mops, "all of it with the four letter words." She said that Caesar was saying "your mother so and so," and she repeated that Caesar went mad.
Senior Magistrate Rickie Burnett asked if that meant he should send the defendant to the Mental Health Centre.
"I don't know…but if you hear the dirty words to me…," Williams said, her voice having grown strong, reaching the back of the courtroom.
The elderly lady commenting on how she felt, said, "well maybe he has a demon in him…my heart start to flutter. I think he meant to kill me," she stated, explaining that she had to go for tests the next day.
On July 16, she revealed, "well he walk around cursing his dirty language."
Williams was shown broken mops in evidence, and asked how she knew those mops were hers. "How I know? They are broken up now," she stated confidently.
Caesar said he did not break the mops, and broke only one block by stumping his toe on it.
Burnett, in turn, asked him if he was saying that the lady was telling lies on him. "Yeah," Caesar replied.
When this was communicated to Williams, she told the senior magistrate, without blinking, "It. Was. Broken. By him!"
"He said the blocks was broken accidentally," Burnett told Williams.
"Ha.Ha.Ha," the elderly woman said flatly, "that is impossible."
Caesar then claimed that it was not as Williams claimed, and that he had been living on the property all the time.
The 94-year-old explained that many years ago, Caesar was sitting on her steps and was crying. She said her helper had told her, "Granny look that man out there can't even walk… you go leave him there to die?"
Therefore, she said she helped him recover, and told him to stop drinking rum, and he got better. Caesar agreed that this happened.
"Sounds like you have the mind of Jesus, Granny," Burnett told her.
The defendant suddenly smiled, and told the old lady, "I feel so good to see you in court this morning. It make me feel so much better."
"I would curse, but not to she," he told the senior magistrate.
"I beg you to keep him out of my yard," Williams asked.
The list of Caesar's alleged infractions continued, the Kingstown Park resident stating that the defendant had come onto her property the night before, and was seen on her cameras. Caesar had just been granted bail.
"My shoes…I didn't have no shoes to put on," the barefooted defendant explained.
The next witness was a lodger with the elderly lady, Terrance 'Kevin' Pereira, who has been living with her for 20 years. Pereira said that Caesar had been walking around the house on July 16 saying that it was his house, and that "he (Caesar) was very rude and out of place."
Caesar concluded that the witness was 'vex' because of a plum incident.
Williams explained that Pereira's mother, a Trinidadian, was a friend of a friend, and had asked her to take care of her son a long time ago.
"I never had any problem with him (Pereira), but he (Caesar) is a devil," she indicated.
Addressing Burnett, she stated, "I think this one (Caesar) want to put me down here before God ready for me," as she pointed to the ground. Then, addressing Caesar, she finished, "but you will go down there before me."
The defendant's bail was revoked, and the trial will continue on September 3.