Posted on
Two charged with burglary of First St Vincent Bank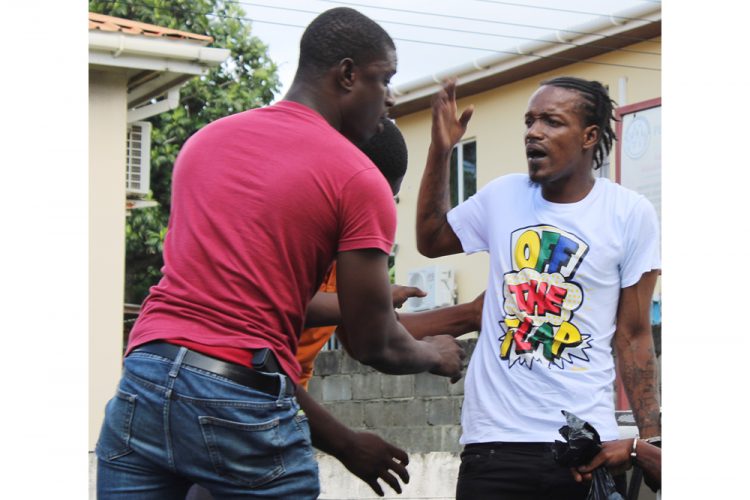 Two young men are remanded in prison this week, charged with burglary of the First St Vincent Bank, from which they allegedly stole $37,000 after smashing the bank window with stones.
Solomon LaBorde is a 27-year-old labourer of Murray's Village, and Jason Williams, a 32-year-old labourer of Arnos Vale; and both will face trials on the matter. However, Jrann Browne, a 31-year-old Fisherman of Long Wall, who was the first to be charged in the matter, is no longer facing a charge of burglary after this was withdrawn against him.
Nonetheless, all three men were brought before Senior Magistrate Rickie Burnett at the Kingstown Magistrate's Court last Friday, November 19.
The police escorted them to the court.
When the transportation first stopped outside the building everyone seemed calm, but soon afterwards, defendant Williams began to protest.
The barefooted prisoner was saying that he wanted his shoes, and held the back of the pickup reluctant to go ahead, and resisted the attempts of the officers to get him to proceed inside.
When he arrived at the door which leads into the hallway, which in turn leads into the courtroom, Williams once again put up a heavy resistance.
In the courtroom, which was not in session at the time, Williams continued to object. "If they give me back me pants, they could give me my shoes too," he said.
Williams kept repeating that he wanted his shoes, and said his aunt could provide proof, and send pictures of the shoes on his phone. He also claimed that his shoes could not be used as an (court) exhibit.
"I wah my property. I wah my property, jed," he said.
"I now come out ah jail," he also claimed, that he hadn't had time to buy any shoes, and that those were his only shoes.
Eventually, he was taken out of the courtroom, and returned when court was in session, wearing a pair of slippers.
It was put to Williams and LaBorde that, between 11 am on November 14, and 9:30 pm on November 15, they broke into the First St Vincent Bank, and stole $37,000 in cash.
Secondly, that they, without lawful excuse, damaged one 43 3/4 x 77 1/4 glass window pane, of the First St Vincent bank, which is valued at EC$900.94. They apparently did so by smashing it with stones.
Both denied guilt on both counts.
Prosecutor Sergeant Renwick Cato relayed that there was an objection to bail for the two defendants.
The grounds on which this objection was being given, was, firstly, because of the serious nature of the offences, and the amount allegedly stolen.
"Two: out of that amount, just over $8000 were recovered," Cato continued.
"The police are still conducting investigations in these matters, and we are fearful that if granted bail, that the defendants, that they will hinder or obstruct the investigations, particularly efforts to recover the stolen money."
The police were asking for a two-week window within which the investigation could be concluded.
Neither Williams, nor LaBorde, were legally represented.
However, both responded to the prosecution's objections.
Williams went first. He said that he would tell the magistrate the honest truth . The police dem ain't doing their work, you understand? he posited.
The defendant said that since he was locked up, they already spoke to several of his family members, and asked them information about him. The officer have me long enough in the station, to investigate, he stated.
He asked that his bail be granted because, "I geh a surgery to do out Georgetown. I could send for the medical paper give you."
"So if you are on remand you can't go and do your surgery?" Burnett asked him.
"Everything go hah to do back over," Williams responded, "I have to start from scratch and go back and see the eye doctor."
"Even if I'm to deny you bail at this stage, that should not affect you doing your eye surgery," the magistrate said.
However, Williams insisted the process would have to begin again.
"All he needs to do is inform the prison authorities," the prosecutor offered.
The defendant noted that he was supposed to get surgery before, but he was in jail and this had to be put off. He also said he has to see an eye specialist, and he uses eye drops.
LaBorde said that he wanted to be free to go outside and spend some time by himself.
His co-defendant informed the court that LaBorde wasn't "really right" in his head.
The magistrate in turn noted that LaBorde had come to his court before, and he knows his shortcomings.
Ultimately, Burnett remanded the duo for one week, until November 27, for a bail review.
Following this, Browne, was charged with, on November 15, knowing or believing $100 to be stolen goods, did dishonestly obtain it for his own benefit.
Browne, who was represented by lawyer Grant Connell, was granted $250 bail, no surety.
Williams was also charged with, on November 17, having in possession one .38 Smith and Wesson firearm and three rounds of .38 ammunition without a license.
This matter was transferred to the Serious Offences Court (SOC), where he appeared yesterday, November 23.
Bail was denied on request of the prosecution, and the review will be November 30.
Williams indicated that he is working on getting a lawyer.