Posted on
Man broke quarantine, slapped with $500 fine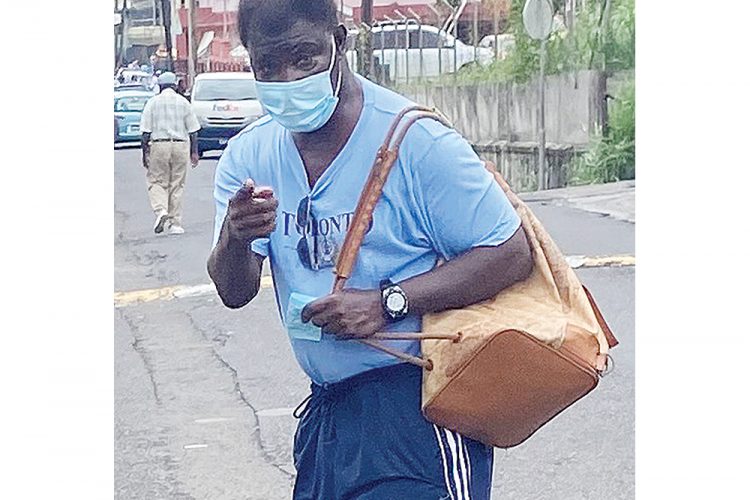 A man who hopped onto a minibus and travelled into town one day after his quarantine started, then booked himself into another hotel without revealing that he was under quarantine, has been fined $500 for his actions.
Ivan Burgin, a 78-year-old of Fountain/United States, appeared at the Kingstown Magistrate's Court on Friday, October 2 for sentencing after he breached a quarantine imposed upon him by an order of a medical officer of health, under s 27 (a) of the Public Health (Amendment) Act 2020.
This sentencing happened one day before Burgin, a Vincentian by birth, was due to travel back to the US.
He had been in the country since September 12, after travelling from the US. The authorities say that Burgin arrived at the Argyle International Airport (AIA), and was given a list of hotels approved by the Ministry of Health (MOH) for quarantine. He chose Beachcombers Hotel at Villa from this list, and made his reservation. He was told that of his 14-day quarantine, five of these days should be spent there.
However, at about 8:05 am on September 13, the hotel staff witnessed Burgin exiting, with luggage in tow. While doing so, he was arguing and declaring that he's not staying there.
The police were informed, and they later found him at the Cobblestone Inn in Kingstown, which is not an approved hotel for quarantine.
"I not happy out there. I went to get phone call and mosquito was out there," Burgin told the police.
He was taken to the Spring Garden hotel to complete his quarantine.
When the US resident was brought to court for the first time on Thursday, October 1, he made bold comments outside the court.
"They not supposed to put me in no quarantine, what happen y'all better than America?," Burgin said then.
The following day, Friday, he seemed disgruntled and no longer open to the media.
However, inside of the courtroom, he calmly told Senior Magistrate Rickie Burnett that he is heart patient, who had surgery about six months ago. When he reached his first hotel, Beachcombers, they served him only a little food, he claimed.
He continued that the next morning, at around 6 or 7 o'clock, he didn't have any breakfast to take his medication with, and being a diabetic, he needed this. He tried calling the front desk, but didn't get through, and so he walked out to the front desk. Another complaint is that he did not have Internet service in his room. When they brought him breakfast, he did not like it, as it was apparently unsuitable for a diabetic.
Burgin said he called again and didn't get anybody, and no one was at the front desk when he went.
On the other hand, Medical Officer of Health, Dr Roger Duncan, present for sentencing, informed the court that during the night before the defendant left the hotel, the ministry received telephone calls from the hotel "that he was aggressive, he was loud, he was abusive."
"That went on through the night," Duncan noted, until they called in the morning to say he wasn't there.
After he disappeared, ministry officials repeatedly tried calling him but did not get through to him, Duncan revealed, and that he did not, as he was supposed to, give them a working local number.
"We informed the police, the police were able to track him down later. But it appears to me that his intentions were not to stay there in the first instance," the doctor observed.
Secondly, Burgin was given a card with a number on it to call if there were any problems. "We have moved people who have gone to one facility and for some reason were uncomfortable," Duncan commented.
"You can't just jump up and go and catch a bus or get a taxi."
The doctor said that they are not rigid in this way, and accommodate.
"He should not have been at the front desk and that's a problem. Through the night he's leaving his room," and trying to engage the staff of the hotel, the doctor said.
Burgin contended that this was not the truth. He said after paying US$750, he never moved from his room until the morning.
He said that he came with a negative test for coronavirus from the US. He reiterated his story about the service, and added that they dropped food and Baygon by his door and went without him seeing anyone.
"Yeah but you were given a number Mr Burgin," the magistrate told him, but the defendant said "I can't remember if I see that number."
Duncan said that he was given a card of four to five inches that explains the symptoms of the virus and had hotline numbers.
Later on in the discussion it was revealed that the reason Burgin did not go to his home at Fountain is because it had nothing in it. He also admitted to taking a minibus to town, because "I had no Internet to make any call."
Prosecutor Corlene Samuel noted "he had to walk from wherever he got off the van to the hotel. He went to the other hotel where there are other persons there who are not prepared to deal with him or not knowing his condition, so he came in contact with other persons there."
She said those are some of the aggravating features, including that he is not showing any remorse.
"In America you have to deal with the protocols there. And you come to St Vincent, protocols are set out, and we have to follow them likewise, and he is showing us that it's neither here nor there for him," Samuel stated.
The defendant said that when he arrived he was put in a wheelchair, and was very sick. He said that he didn't know any of the hotels on the list.
The medical doctor also remembered when Burgin arrived. Duncan recalled that Burgin was saying that he didn't want to go to a hotel, and was flagged as a potential risk at that point.
Burgin was asked if he told the staff at Cobblestone Inn that he was being quarantined at Beachcombers, and he said no.
"That may explain how reckless of a man you are – because you were placed on quarantine at Beachcombers – and you went to Cobblestone without telling them that you were quarantined at Beachcombers," the magistrate stated, asking him to explain that.
Burgin reiterated that he had a negative test, but Burnett told him this "doesn't matter."
Duncan also added that a PCR test is only valid at the time it is done.
"Mr Burgin there's a lot of recklessness in you by what was done by you," the magistrate told him, but the defendant replied "I can't see that".
"You breached the order for a few hours, but the risk that you put the population to, that to me is most aggravating," the judicial officer said, before imposing a $500 fine to be paid forthwith, with a default of 14 days in prison.