Posted on
Bicycle thief jailed for seven months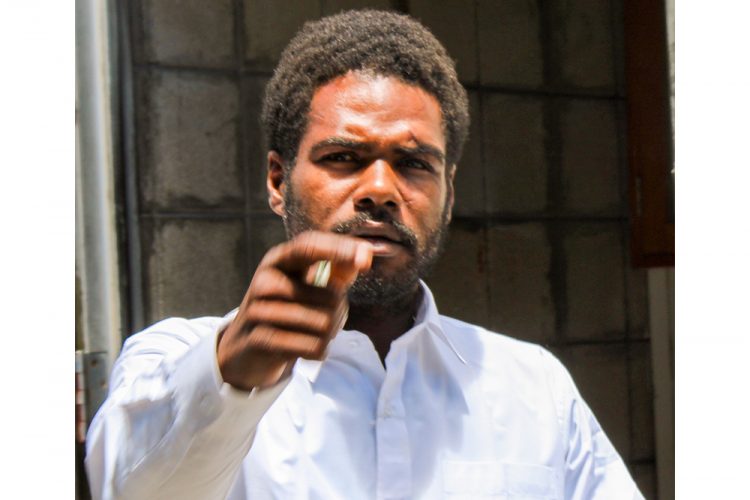 A Lowmans Leeward man who hassled someone off of a bicycle before stealing it, and who caused a policeman to have to pull his service pistol after he drew a cutlass, will spend the next seven months in jail.
Shorn Bynoe was charged at the Serious Offences Court (SOC) on Monday, June 15, that he did on March 19, at Bentick Square Kingstown, steal a grey and white BMX stunt bike valued $700EC from Jexson Edwards of Campden Park.
On June 13, at Middle Street Kingstown, Bynoe was also accused of having an offensive weapon in his possession, namely a cutlass.
He admitted his guilt to both offences.
The court heard that on March 19, at around 1:15 am, Edwards, an auto mechanic, was at a bus stop using the wifi when Bynoe approached him and asked for two dollars, to which Edwards replied that he didn't have any money. Bynoe then asked him about the bike, which Edwards was sitting on.
Bynoe apparently told Edwards to get off his bike, but Edwards did not move. He then started shouting as if to alert someone nearby which triggered Edwards to alight from the bike and drop it.
Bynoe then got on the bike and rode away in the direction of Kingstown. However, afterwards, Edwards saw Bynoe leaving a fruit stall in front of the hospital, and the owner of this stall told him Bynoe's alias and that he lived in Lowmans Leeward. He tried to find Bynoe in an effort to get back his bike but was unsuccessful, leading him to report the matter to the police.
The police picked up Bynoe on June 13 while they were responding to another report of an unknown man brandishing a cutlass in Middle Street and making threatening remarks. When the police arrived, Bynoe immediately pulled out a brown handle cutlass. One of the officers drew his service pistol and Bynoe handed over the cutlass.
A search of Bynoe's home did not turn up the bike.
Before the court on Monday, Bynoe told the chief magistrate that he had asked for the bike to go to Yankee to buy something and come back. He said when he came back to the area he didn't meet Edwards there.
The senior magistrate told Bynoe that she did not believe his story.
"…So don't come here with your nonsense story," she told Bynoe, who appeared to have a previous offence before the Serious Offences Court among the list of his 19 antecedents.
She asked him about the cutlass, and he insisted that he was going to the mountain where he was planting eddoes. He said he pulled the cutlass out because they asked him where the cutlass was.
"You just seem to have no respect for authority or persons' property and I'm saying that on account of the record that you have before the court that is not even up to date," she told Bynoe.
She continued, "If you want something you work for it…you can't just go about saying 'Get off your bike. Give me your bike.'"
Bynoe made the point that he pleaded guilty.
"Yes you accepted because you really have no good reason for behaving how you did. You have no reason for that kind of behaviour," the magistrate told him.
When he was sentenced the following day, Bynoe was told that the theft of the bike caused a high level of inconvenience to the owner, who tried to retrieve it. There was also a level of intimidation, and a threat of force used.
He was sentenced to six months in prison for theft of the bicycle.
For possession of the weapon, which the senior magistrate deemed a brazen act, he was sentenced to seven months in prison.
While these were separate offences, Browne determined that the sentences ought to run concurrently.