Posted on
Reckless driving costs three young drivers dearly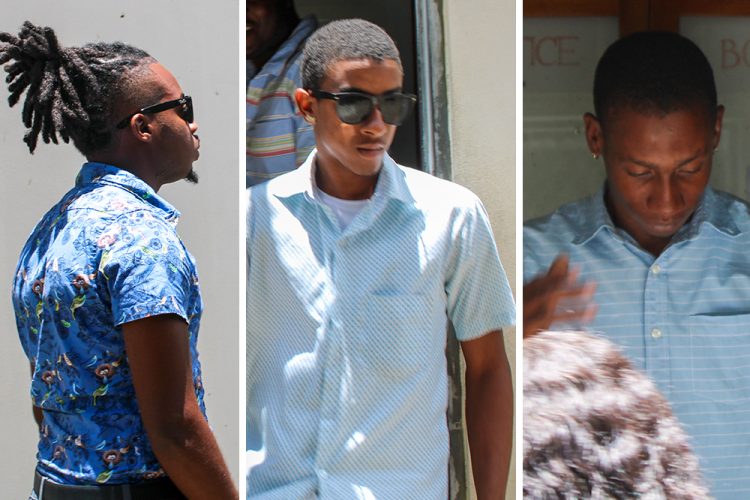 They overtook everything in their way, determined to find out whose vehicle was the fastest, but the reckless act, caught on video, has cost these three young drivers dearly.
TJ Deane, 21, of Brighton who operates a bakery with his father; Javon Jardine, a 23-year-old driver of Mt Pleasant; and 25-year-old J'Lani Douglas, a former van driver of Rockies, were all featured across social media platforms conducting the daring stunt on April 11.
Less than a week after the brazen racing event, the trio all landed at the Serious Offences Court on April 17 with charges of reckless driving.
After all defendants entered guilty pleas, Station Sergeant Parnel Browne informed that the facts are that it was close to 8:00 pm when Jardine and Douglas started having a discussion in the car park of Massy Supermarket, Arnos Vale.
The two began arguing as to whose vehicle was faster, and they came to the decision that they would test this, driving from Massy to Sion Hill and back to Massy.
Jardine, behind the wheel of PV918, and Douglas controlling P4621, the duo set off at high speed.
Deane, when he caught wind of the competition, drove his own vehicle, PK471, so that he could get into the action.
A passenger in Deane's car filmed the event, and he later "willingly" showed his phone, with the video to the police, "because he didn't know the seriousness of it," the station sergeant explained.
The video was shown at court.
The station sergeant at the traffic department remarked that the three young drivers overtook "every object, every vehicle, everything that they met on the road," and around corners, until they got to back Massy.
The young men were charged under Section 48 of the Motor Vehicles and Road Traffic Act for which the maximum penalty is a fine of $2500 and imprisonment for up to six months, and, in the case of more than one conviction, a fine of $5000 and imprisonment for up to six months.
Further, any person convicted under the section can be disqualified from holding a driver's licence for a period not exceeding six months, after the first offence, and two years after the second offence. Permanent disqualification is applicable after the third conviction under the section.
The station sergeant asked for the licenses of all three to be disqualified, and submitted the record for Douglas, which Chief Magistrate Rechanne Browne commented was "terrible".
However, lawyer Grant Connell, representing two of the three defendants, but appearing amicus for Deane, asked that their licenses not be disqualified. He also asked that a fine be imposed, and a jail sentence not considered.
He said we are now in "unchartered waters" wherein the economic climate can "change drastically" and "every little matters."
Jardine worked as a driver and if he loses his licence, he would lose his job. Connell also noted that Jardine has never had a ticket while working for this company.
Douglas was a van driver, his lawyer noted, agreeing that he had erred as a "van man" (referring to his terrible record), and when he sped up to Sion Hill and back to Massy.
He vouched that they were "good young men" and he was certain they would return to the straight and narrow.
The lawyer said that he was "asking the court not to crucify them," adding that it was "all over the internet."
He put their actions down to the ignorance of youth, and commented that young people need vents for the "adrenalin rush and this need for speed."
"What they did was wrong, a stupid act, they will regret" he indicated, saying that they throw themselves at the mercy of the court and beg for leniency.
The chief magistrate stated "these offences are serious offences and a message has to be sent, and there is also the option of imprisonment," which she is not discounting.
After standing down the matter, the magistrate returned, indicating that her sentencing would differ based on the role of each party.
Deane and Jardine who had no previous convictions were fined $1200 forthwith, with a default of 12 weeks of imprisonment. Their driver's licences were disqualified for three and four months respectively.
In the case of Douglas, he was fined $1550, with a default of 15 weeks. His licence was disqualified for one year.
After court adjourned all the young men put back on their shades and exited shortly after they presumably paid up the assigned sums.