Posted on
For stabbing his children's mother to death, former cop gets 22 years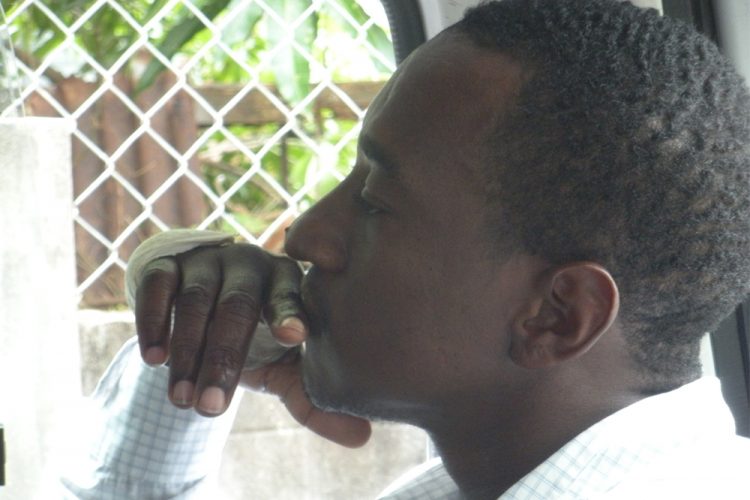 A three-year-old and an eight-year-old witnessed their father, a former policeman, stab their mother 17 times in her face and neck, before trying in vain to stem the blood from their dying mother's neck.
Last Friday, March 27, their father, Lionel Hoyte, with whom they have had no contact since the 2013 incident, was sentenced to 22 years imprisonment for the murder of their mother, 36-year-old Helen Fox.
Hoyte, who had pleaded guilty to the murder, did his best to hide his face as he returned to prison to serve the remaining 15 years and one month of his prison term, as he has already spent six years, and 11 months on remand awaiting the outcome of the matter.
Defence attorney Joseph Delves noted that one reason Hoyte pleaded guilty was in order to protect his older son from having to give evidence in the trial. Had the young son been put on the stand, he would have had to recall that on April 29, 2013, his father, who worked as a security guard in Canouan, travelled to the mainland to visit them at their home.
At nine pm on that day, their mother was asleep in the bedroom, while the two boys watched television near her. Their father entered the room and Hoyte started verbally abusing Fox.
He then began stabbing her in her face and neck with a knife, saying that he would go to jail for her.
Hoyte exited after this, leaving the sons. The boys turned on the light, which illuminated their bloodied mother. They used paper tissue and the bedsheet to try to stem the flow.
Their mother told them to call their grandmother, who lived above them. A woman came to their help from the upstairs residence, and she asked Fox who had hurt her. The injured woman replied, twice, that it was Hoyte who stabbed her.
Fox died less than two hours later at the Milton Cato Memorial Hospital(MCMH).
While Fox was fighting for her life, a blood stained Hoyte walked into the Central Police Station, and confessed that he had had a fight with his girlfriend.
He told the police that he had heard that his wife was having an affair, and he came to confront her.
He said it wasn't until he heard his name being screamed by the woman who responded to Fox's children's call for help, that he realized he had done something wrong, and came to the station, Hoyte said.
In mitigation, on March 27, defense lawyer Delves said there was no evidence that his client took a weapon to the house, as he tried to establish that there was no premeditation or pre-planning, and that in any case if there was, it wasn't significant.
"The crown seems to want the court to say that Lionel Hoyte came from Canouan on the fateful day, intending to kill his girlfriend. But there is no evidence of that," the lawyer stated. The defense posited that Hoyte travelled to ask Fox the truth, and at the time was highly anxious and stressed, as per mental reports submitted by psychiatrists, who also indicated that Hoyte was stressed and clinically depressed.
"And he was expecting one of two answers: yes I've been faithful to you, no I've not been faithful to you. Now what was his intention given this binary choice?," the judge asked the defense team, the other member of which was Patina Knights.
"…To say that if he got the choice that he didn't want to hear, he intended to kill her, we can't go there. This is a criminal matter. You can't…that's a jump," Delves insisted.
However, the Director of Public Prosecutions countered that "the court can draw an inference based on the context, the fact that he left there, the fact that he committed this offence in the bedroom, and what transpired immediately before the knife attack," and say that there was premeditation.
Later, when delivering his sentence, Justice Cottle stated "I find that there was premeditation, and that this was a brutal murder, in the presence of the infant children of the deceased, he (Hoyte) inflicted 17 stab wounds." Therefore, he thought the case of a high level of seriousness.
Using a starting point of 30 years, Cottle moved upwards by six years to reflect the aggravating features, which outweighed the mitigating. However, from 36 years he moved back down to 33 years, considering the reports from psychiatrists indicating Hoyte's mental state. His depression and stress, Hoyte had told the mental health professionals, came from being cheated on previously.
From there, Cottle moved downwards yet again to 22 years, because all offenders who plead guilty receive a one third reduction to their sentence.
"I apply the full discount in this case because the guilty plea obviates the need for an already traumatised child to testify against his father," Cottle explained.
The judge also ordered psychotherapeutic intervention for the 44-year-old, following suggestions from the professionals.