Posted on
Man abducts his ex and leaves her stranded, naked on the beach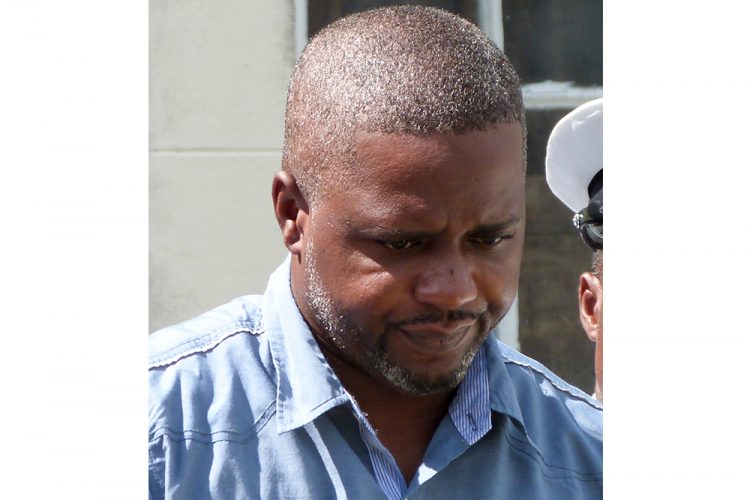 Although a first time offender of the law, a Belvedere man was sentenced to prison time last Friday, for abducting and humiliating his ex-girlfriend by dumping her naked at Sion Hill Bay.
While it was never clearly said at the High Court last Friday why 36-year-old Levorn Williams chose to act in this manner on August 30, 2015, his lawyer Patina Knights relayed that her client has promised to reduce his drinking.
Nevertheless, after Williams was sentenced, Justice Brian Cottle warned the prisoner that matters could have been a lot worse if the jury had convicted him on the two other charges he received.
The judge impressed upon Williams that one of the offences for which he had been acquitted carries a maximum sentence of life imprisonment.
Williams was convicted of abduction after a full trial which ended on November 6. He was acquitted of a charge of attempted rape, and the jury was unable to come to a decision on whether he had assaulted the victim, causing her actual bodily harm.
Crown counsel Karim Nelson led the prosecution while Williams was represented by Knights.
The jury believed the ex-girlfriend's testimony that on the night in question she had attended a high school reunion which was also attended by her former lover, Williams. When transportation became an issue for a number of persons including the complainant, Williams was there to offer a lift. He dropped off the others persons, and then asked his former girlfriend if she was ready to go home. She answered that she was, and that she had a busy day of work ahead of her the next day.
However, Williams had his own plans, and decided to take a 'shortcut' to her home and then turned off the road at Arnos Vale that led to the technical college. Instead Williams drove her down the Sion Hill Bay, and she repeatedly asked him to take her home.  
These pleas fell on deaf ears, and the two got into a confrontation. He forced her to take off her clothes, and then threatened to rape her if she did not get out of the vehicle.
"She ran away from him, in an effort to escape, and he then drove away, abandoning her, nude and distressed," the judge stated when reviewing the facts.
Therefore, in the dark of night, the complainant was forced to approach strangers to ask for help, and they gave her a t-shirt to wear.
Later the police would find Williams at home on his bed, and the complainant's bag in his vehicle parked outside.
In a strange twist of fate, the prisoner's ailing mother died on the very same day that he committed his crime.
His mother, according to his lawyer, was a Reverend in the Spiritual Baptist Church. Therefore, besides expressing remorse for his crime, Knights said that Williams indicated "that it was a total departure from his upbringing and he has disappointed those closest to him as well as himself."
The 36-year-old has declared to Knights that he never wishes to be before the court again and "he has sought since the incident to apply himself to his family and be more responsible in all that he does, and this includes the reduction of his consumption of alcohol."
His family consists of his girlfriend, and their eight-year-old son. He is also expecting another child next June.
Apart from this incident, Knights told the court that Williams has good character, and had no previous criminal record before this date.
"It is unlikely that he shall be a repeat offender," she submitted.
"There was no violence, there is no weapon, there was no sexual advances, ie no sexual touching of any kind," the lawyer noted about the offence, and that Williams had cooperated with the police.
Knights was aiming for a suspended sentence for her client, which would see any prison sentence he received being delayed for a period during which Williams must not be convicted or the sentence will be enforced.
She said a prison sentence would have a deep impact on the family, and the youngsters in his community who he gives odd jobs since he is employed as a maintenance coordinator at St James University and has his own small business which does home maintenance services and repairs.
Abduction carries a maximum sentence of five years jail time, and based on decided cases the court began at a two year prison sentence. There are no sentencing guidelines provided for this offence as yet.
The offence was aggravated by the facts that "the prisoner had shared an intimate relationship with the complainant in the past, and so she trusted him. He abused that trust. He humiliated the complainant by forcing her to run naked to strangers for help." He also threatened to rape her, Cottle listed.
This merited an increase from two years to three years the judge felt.
However, his previously clean record was a strong player, taking the sentence down to two again.
Williams had already spent 10 days in jail at that time, and so his final sentence was one year eleven months and 20 days in prison.
He must spend a year incarcerated, but whether he has to serve the final 11 months and 20 days of the sentence in jail will be determined on whether he is convicted again within a year after he is freed. This is because the 11 months and 20 days are suspended.
The judge told the prisoner that he hopes that he has learnt his lesson and will not be back before the court.