Posted on
Accused claims police beat confession out of him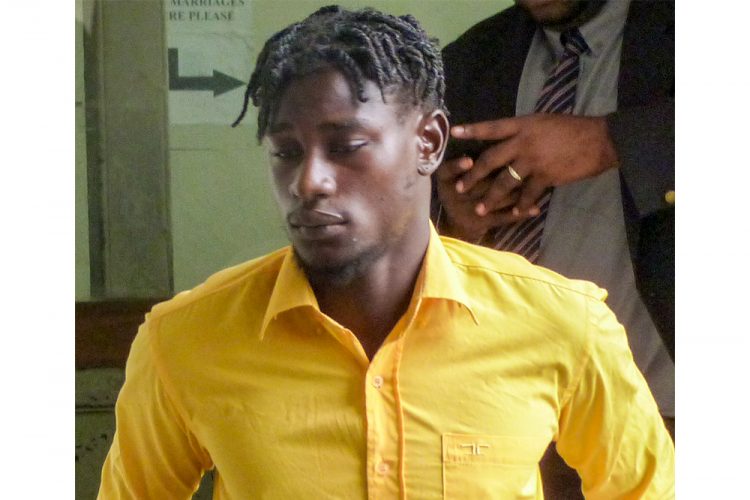 Facing a damning statement he made in 2013 admitting to being one of the assailants that boarded a yacht with intent to "eat a food", an accused claimed that the police had beaten him.
Enard Douglas of Union Island objected to the statement being admitted into evidence when Corporal Justin Cupid took the stand on Monday at the High Court.
The Corporal was a prosecution witness intended to help prove the charges that Douglas, along with his co-accused Jerome Jordan boarded the yacht anchored off Union Island on October 3, 2013, and committed the offences of aggravated burglary, grievous bodily harm on Christina Curtin of the US Virgin Islands, and unlawful and malicious wounding on Mark Beiser, of the United States.
When Douglas made the claim that he was beaten, this triggered a "voire dire" or an investigation into the truth or admissibility of evidence in a trial.
Corporal Cupid was first to take the stand, and he said that he arrested Douglas the day after the incident, when the accused was at his home in Union Island.
A while later, at the station, the Corporal interviewed the 15-year-old, in the presence of a his mother and a Justice of the Peace. He said the interview took half an hour, during which time Douglas volunteered a statement and this was written, and read back to him.
Douglas, as well as his mother and the Justice of the peace all signed as witnesses, after Douglas agreed that the statement was correct, the officer stated.
"Mr Douglas wasn't threatened, beaten nor promised anything to make that statement. He did so of his own free will," the Corporal stated.
Cupid said that he never slapped, or hit Douglas, nor did he box him, or tell him what to do.
Douglas, on the other hand, told the court that Cupid kicked him, boxed him in his belly and threatened to squeeze his testicles.
Douglas said he told his mother about the beating.
His mother very briefly explained that her son had told her when she came to the police station that he had been kicked, cuffed in the belly, and slapped by Cupid.
She told the prosecution that the Justice of Peace was told that Douglas was beaten but he did not take any further steps. However, she also said that her son was cautioned and told that if he did not want to give a statement, then he didn't have to.
In the end, Justice Brian Cottle made the decision that, from what he had heard, Douglas had made the statement voluntarily to the police.
The statement was then allowed to be read to the jury. Douglas had said in this statement that he had met Jordan who told him that they have "foods" coming up and that they should "go and eat a food." Douglas claimed that he jumped on the yacht last and that when he heard a woman scream, he jumped overboard.