Posted on
$15,000 bail allowed for prison officer alleged to aid the escape of accused murder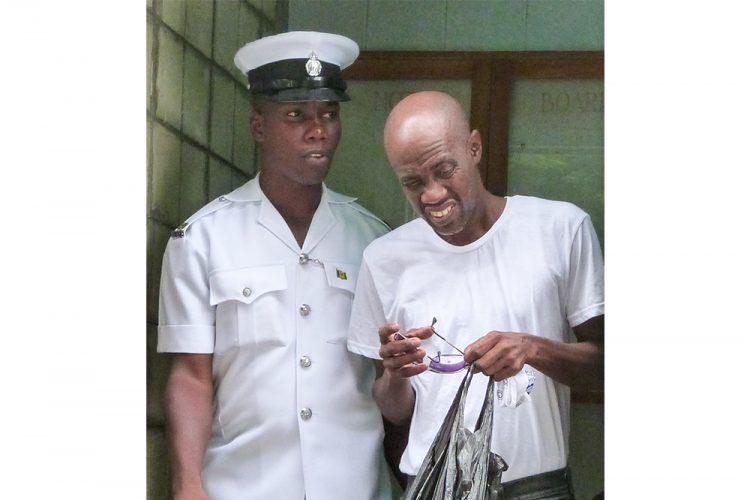 The prison officer alleged to have aided in the escape of murder accused Veron Primus has been allowed bail in the amount of $15,000.
However, Louie Cupid was unable to leave the court as a free man last Friday, as he had yet been unable to meet the requirements for bail.
The accused prison officer had already been housed in prison for an entire week after being charged with, between September 24 and October 2, at Her Majesty's Prison, conspiring with Primus to commit the offence of escape of unlawful custody.
Additionally, he was charged that, between September 29 and October 2, at Her Majesty's Prison, being employed in the public service in St Vincent and the Grenadines as a prison officer, he did abuse the authority of his office, an arbitrary act, prejudice to the rights of the Superintendent of Prisons, namely, he conspired to aid the escape of Veron Primus from lawful custody.
Bail had been denied to Cupid when he first appeared in court on October 4, despite representations by one of his lawyers, Grant Connell. This was after the prosecution informed the court that investigations into the prison break, being led by Inspector Elgin Richards of the Major Crimes Unit, were at a delicate stage.
However, although Cupid seemed to have secured his freedom last Friday, his lawyer indicated that the bail amount was too high for his client to meet.
Nonetheless, if Cupid succeeds in finding a surety in the matter, they must ensure that he returns to court on November 12, for what is supposed to be the beginning of his trial.
The Murray's Village resident must also report every Monday, Wednesday and Friday to the Central Police Station, and surrender all his travel documents to the court.
Before being charged, Cupid along with four other officers were held by the police for questioning after the escape, which is said to have occurred between Monday, September 30, and Tuesday, October 1. Only Cupid has been charged.
Although Primus did voluntarily return to custody on October 1, after only hours of freedom, it is yet unknown to the public how he managed to escape what was supposed to be a maximum security holding area.
Primus is on remand currently awaiting trial, as he is accused of the 2015 murder of real estate agent Sharleen Greaves who was found stabbed to death in her Bijou Real Estate Agency on November 13. Primus has also been indicted for the 2006 murder of Brooklyn scholar Chanel Petro Nixon who was 16 years old when she was strangled to death.
Primus previously faced charges of raping, buggering and kidnapping his ex-girlfriend Mewanah Hadaway. Hadaway made claims that she was kept in Primus' house in Vermont between January 1 and April 15, 2016, against her will, before finally being rescued by the police.
The prosecution has been forced to withdraw these charges after no evidence was offered by Hadaway, who resides in Antigua. However, Primus may be charged at a later date.