Posted on
Prison officer charged, probe continues into escape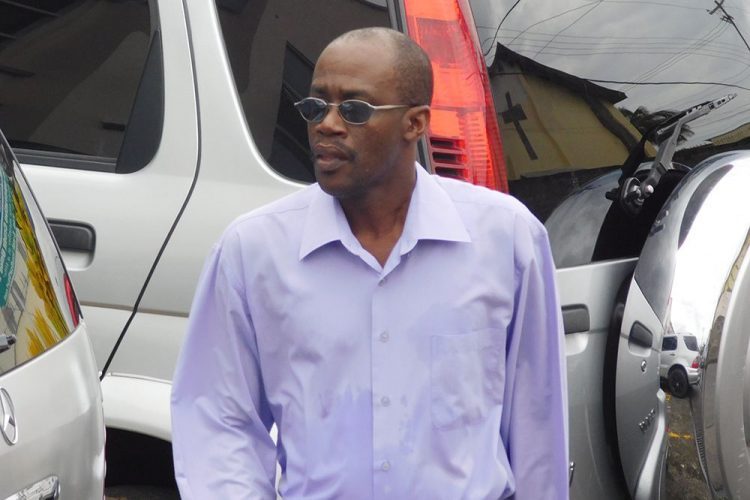 In order for the police to turn over "every stone, every Ju-C cork, every nail" in the widespread investigations following last week's prison break, accused prison warder Louie Cupid has been temporarily shackled.
Cupid, a Murray's Village resident who has been employed with the prison for 12 years, was denied bail when he was brought to the Serious Offences Court last Friday, October 4, charged with two offences.
The first of these is that he, between September 24 and October 2, at Her Majesty's Prisons, conspiring with murder accused Veron Primus so that he may escape from lawful custody.
Secondly he is charged that he, being employed in a public service in St Vincent and the Grenadines as a prison officer, did abuse the authority of his office, an arbitrary act, prejudice to the rights of the Superintendent of Prisons, to wit, conspiring to aid the escape of Veron Primus from lawful custody.
The defendant, who is represented by lawyers Grant Connell and Joseph Delves, maintained his innocence to both charges.
However Senior Prosecutor Adolphus Delplesche lodged an objection to bail stating, "Your honour, these investigations touch and concern national security."
He said although Cupid has been charged, the investigations continue, and as per discussion with the head of the Major Crimes Unit, Inspector Elgin Richards, "The investigations are at a delicate stage and the concerns of the investigators, the defendant, if granted bail, can hinder progress of those investigations."
He asked the court for a little time, "Not forever. We cannot ask forever."
"So that Mr Richards and his team can turn over every stone, every Ju-C cork, every nail that they may have to turn over with these investigations. That's all we're asking for," the crown pleaded.
"The defendant does have a constitutional right, we appreciate that, but that state also is protected by the Constitution, and due process must be allowed to take place," the prosecutor said, ending his submission.
Connell countered that if the police are doing investigations, and they charge someone, then it is understood that you have done the investigations and have sufficient evidence to bring someone before the court.
"I don't know much about the Ju-C cork and whatever they have to turn over," he posited, saying that what he does know is that, "There are two charges before the court, involving an escaped prisoner."
"The institution to which you refer, is the prison. The prison…four officers, all who were taken into custody, three were released, one was charged. I cannot see at this juncture what more investigations the prosecution could possibly be talking about," Connell stated.
There was no reason why his client should not be granted bail with conditions attached to shackle him instead, the lawyer argued.
"They have to figure out how the man got out of a prison. That is not rocket science. They have cameras," the lawyer later said.
"Yes I note this is a very embarrassing situation for the state, but denying this man bail cannot fix the problem. You have four men guarding" over 200 men, which is where they should start, he posited.
Further, the lawyer indicated that his client is the main breadwinner of his family, and denying bail would have a corrosive effect. In addition, he informed the court that around $1330 was already taken away from his client, and that he hears it is to give to the Financial Intelligence Unity (FIU). The lawyer noted that this was an abuse.
However, Chief Magistrate Rechanne Browne, in hearing all submissions decided that she would not consider bail at this juncture due to the seriousness of the charges and the representations of the prosecution.
However, bail review is slated for this Friday, October 11.
Veron Primus, a murder accused in the case of the 2015 stabbing of real estate agent Sharleen Greaves, escaped from Her Majesty's Prison between last Monday night and Tuesday morning.
Although Primus gave himself up within a matter of hours, accompanied by his lawyer Jomo Thomas, the breach of the prison's security had already caused mass panic.
Four prison officers were taken into police custody following the escape, but only Cupid has yet been charged.
It is the second time the prison officer has been accused of criminal conduct in relation to Her Majesty's Prisons. In 2016, he was charged that on October 31, 2016 he brought or attempted to bring into the prison, a cellular phone and its accessories, contrary to Section 47 B of the Prisons Act. However on January 20, 2017, the Crown withdrew the charges against him.