Posted on
More charges laid against former Star Garage employee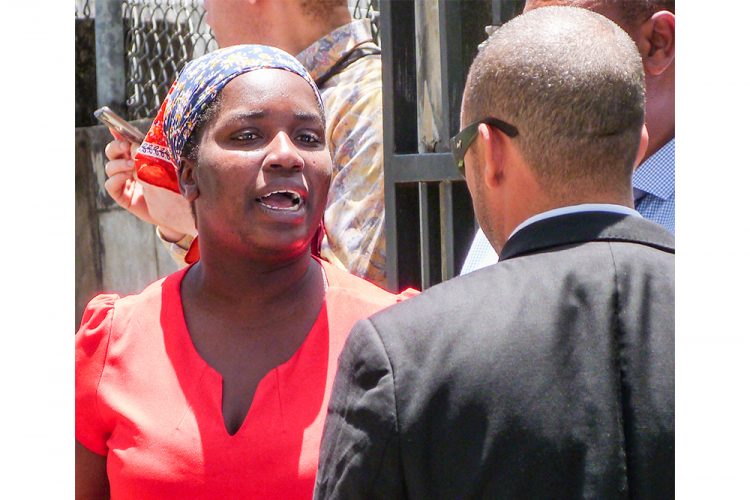 Credit card fraud related charges are racking up against a former employee of Star Garage, Nigerian Eunice Dowers (née Armachi), who, after last Friday, must now answer over 40 charges.
 Dowers' attorney, Grant Connell, did not take the addition of 10 more charges to his client's growing charge list lying down.
  "This case is beginning to cause grave concern. It is very disturbing," he began. He said that since his clients first appearance, the police have had four months, before the date of trial.
 "Two days before(the date of trial), they bring 27 charges. She comes back today, they bring another 12", he informed. "When are we going to try this matter? If they keep on lodging these? When?"
 A few days prior to the Serious Offences Court sitting last Friday, Dowers was brought to the Family Court where the 27 charges were laid against her, which joined the first six that had been laid on February 20.
Last Friday, she was charged with, between the dates, November 21, 2018, and January 31, 2019, stealing the sum $7398 from Bertille 'Silky' DaSilva of Indian Bay. She was also hit with three charges of taking a card from the possession of DaSilva without his consent, contrary to section four of the Electronic Funds Transfers Act. Lastly she was thrice charged for defrauding the First Caribbean International Bank, by obtaining service by representing that she was the holder of the credit card belonging to DaSilva. The charges were laid indictably.
 Chief Magistrate Rechanne Browne told Connell that the matter would be tried on July 8.
"And any pending charges to be incorporated into that…because its very unfair…four months…," he persisted.
 Senior Prosecutor Adolphus Delplesche made the point that the files are currently being looked at by the Director of Public Prosecution's office.
 Connell also brought it to the magistrate's attention that his client had lodged a report three months ago, and "nothing has been done, nothing, nothing by the police."
 "Beaten, beaten, beaten by a man, and nothing has been done," he stressed, while contrasting this with the fact that she has been given 40 charges. He then commented on whether it mattered who the virtual complainant is "in this country", "Bertille DaSilva? That's very unfair."
 "Is it so normal now to beat woman is like nothing. Not even the justice system recognises it. Just let it go. It's just a woman. It's sad," he stated.
  Dowers was given bail at the High Court in March in the sum of $40,000, which was extended. She, a Ratho Mill resident, is under reporting conditions for every Monday and Friday to the Calliaqua Police Station. The 25-year-old defendant has surrendered all travel documents, and stop notices were placed at all ports of entry and exit.
  She was given bail after weeks of being in custody. When she was detained by police she was reported to have been on a flight out of the country.
 She was labelled a flight risk, but documentation tying the Nigerian to St Vincent and the Grenadines has since surfaced.
 It also surfaced in the process of Dowers attempting to secure bail, that a flashdrive had been found in her vagina before she was booked into prison. It is believed that this had been there for a number of days.
 All of the charges that Dowers received, which run from September 4, 2018, are related to the intent to defraud the First Caribbean International Bank, theft of certain monetary amounts and taking the credit card of DaSilva.