Posted on
Two men, same crime, different sentences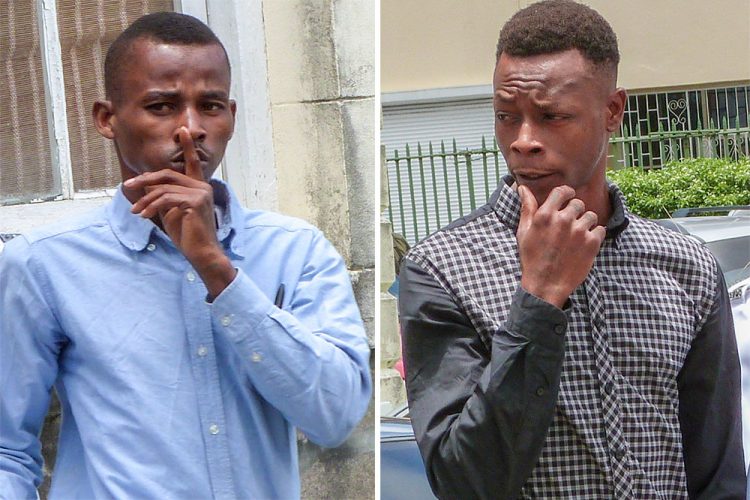 Two men, who committed the same crime of stabbing a man with switch blades will both be incarcerated, but the sentence of one will more than double the sentence of the other.
This decision, taken by Justice Brian Cottle is a representation of the weight that the court places on an offender's prospects for rehabilitation.
From the judge's perspective, Kimani Joe, 33 years, did not have as bright prospects for rehabilitation as his co-offender Tyson John, 31 years.
Therefore, for the crime of the wounding with intent of 55-year-old Orde Pompey of Georgetown, Joe will spend 14 years imprisoned, but John will suffer six years of confinement.
"You see this court does not merely sentence for offences; the court sentences offenders," Cottle had reminded before his sentencing.
Unfortunately for Joe, the results of his social inquiry report versus that of John were like night and day.
When the caseworker interviewed the prison authorities, they described John as having good behaviour, but they named Joe as a problematic inmate.
When relatives and the members of the community were interviewed, they implored the judge to not give John a custodial sentence, saying that he was never a trouble maker.
On the other hand, they said that Joe was a menace to society, and that he was dishonest, quick to threaten, and use weapons. Even Joe's mother admitted that Joe has a temper that he seemingly cannot control.
Also a factor that the judge had to consider was that John is a father, and the mother of his children was desperate for financial support. His son may also have to undergo surgery for scoliosis.
John asked the judge for leniency.
The court heard that John grew up without his mother who left when he was two years old. "I made a lot of mistakes in my past, early age in life, while I [was] juvenile," John told the judge.
Joe, who did not go to secondary school, in his mitigation said while growing up, he was very lonely and afraid of what was happening in his life. He said he never got a chance to finish his schooling because of an injury to his right arm, and that his family was poor.
"I could show you some of the wounds I went through in my life by my own race of black people…," he said, while showing his arm, and saying that his middle finger had been amputated.
He also made pleas for his co-offender, asking the court to be lenient because of John's children.
The facts in this case were presented by crown counsel, Renée Simmons, and summarized by Justice Cottle last week Wednesday.
On the morning of January 28, 2014, Joe got into an altercation with Pompey during which he slapped Pompey.
However, Joe did not stop at slapping Pompey, and instead went to fetch a cutlass. This attempt was thwarted by the shopkeeper and other persons, who barred Joe from entering the shop.
Later that day, Pompey returned to the shop, where he met both John and Joe, and Joe started being aggressive to him again. Pompey responded by picking up a stone, because he felt he needed to protect himself.
However, in trying to leave, he was surprised by John who came up behind him and stabbed him with a switch knife. On seeing this, the same unarmed, female shopkeeper who intervened earlier in the day, intervened again, and struggled with John.
In the end, John was still able to inflict another wound to Pompey's shoulder, despite her efforts.
The wounded man tried to run away, but Joe tripped him, and using his own switch knife, he stood over Pompey, and stabbed him in his neck. The shopkeeper was still struggling with the two, as she told Pompey to run away. Pompey obeyed, and ran, but got only as far as a neighbouring wall, before he lost all his strength, and could go no further.
Joe apparently approached the begging man, while taunting "you go see who name killer now." It was only the sound of the police approaching that caused the men to halt and make their escape. John gave his knife to his girlfriend, who buried it, but who later gave it up to the police.
Pompey was taken to the hospital, where he remained for a week after surgery.
Cottle adopted the well established starting point of 10 years imprisonment, and from there he added years based on the aggravating features. Some of these included that there were elements of premeditation, in that they both brought knives to the scene, that there were multiple stab wounds which were severe, and the incident happened in a public place.
After this, because of John's previously clean criminal record, the esteem with which his community held him, and the suffering which would result to his children, the judge shaved John's sentence down to six years.
Conversely, Joe's long criminal record, persuaded Cottle to increase the offender's jail term, already 12 years because of the aggravating features noted, by yet another two years. "Society must be protected from your tendency to use weapons to settle disputes," the Justice said.