Posted on
Brothers jailed for 13 years for disabling bus conductor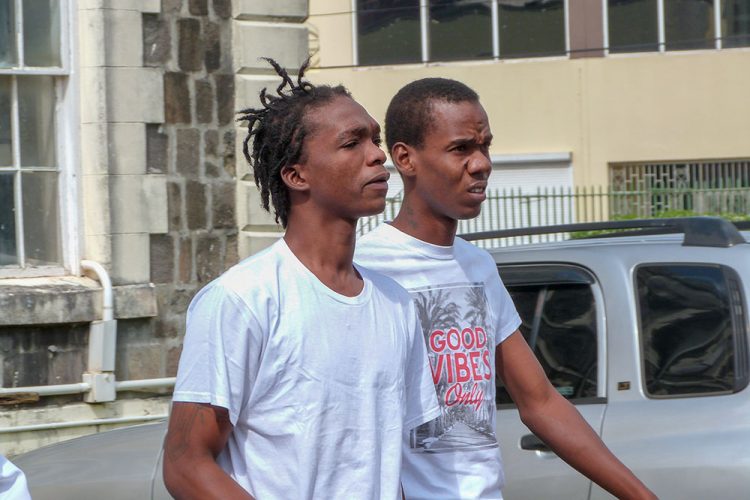 FOR PERMANENTLY disabling a bus conductor in their attempt to take his life, two brothers will be incarcerated for close to 13 years.
Kevin Chance and Javiss Chance were convicted on February 21 for using a cutlass to chop Omar Leteen repeatedly, resulting in a serious wound to his neck and hand.
The two young men appeared before Justice Brian Cottle at the High Court last Friday for sentencing on the charges of attempted murder and wounding with intent.
Javiss Chance, the younger of the two, unrepresented by legal counsel, told the judge that he was very sorry. He asked for "leniency". "I have a six year old son, looking forward to seeing his father," he told the judge, adding that he supported his son all the time. "I have my mother who suffered with nine of us for a very long period of time," he said, before asking to be fined.
Kevin Chance was represented by attorney Grant Connell, who introduced his client as a 27-year-old father of two young boys, aged five and two.
Connell drew attention to the seven years that Kevin has been in the public since the offence, during which time he did not commit any other offences. Regarding this, he asked the court to conclude that Kevin was a good candidate for rehabilitation. "The clanging of metal doors" would not have the "desired effect" on Kevin, he further submitted.
Connell posited, "Although I appreciate that (Leteen) suffered injuries, and he is now in a position of pain, I humbly submit that the victim impact statement is blown out of proportion for the purposes of influencing this court."
He spoke specifically of where Leteen had referred to being chopped "endlessly," and said that he didn't know if this was at variance with the evidence given in court.
In the victim impact statement, summarized by the judge, Leteen said that he felt that the two Chances have sentenced him to a lifetime of pain and discomfort. He finds it difficult to forgive the two, who he says were still struggling to wound him even after a bus driver intervened to stop them.
The victim has relocated to Turks and Caicos for the purpose of regaining his "mental equilibrium."
He still cannot use his left hand properly, as his third and fourth fingers were partially severed; and he says that his fingers hurt when it is raining or about to do so. He left his girlfriend in part because of his disability from the attack, he wrote. Also, his wardrobe has been altered to hide the "unsightly" scars on his neck.
Leteen's hospital and physiotherapy bills have not been paid.
Connell asked for a suspended jail sentence, and said that this way, his client would be able to compensate the victim.
The judge cited many aggravating factors to the attack, notably that it took place in a public place, was premeditated, and the victim has been permanently affected.
Conversely, there is evidence on the character side of matters, that Kevin Chance was an "excellent" father and he had no previous convictions. He was quiet, mannerly and had co-operated with the police, according to the information before the court. Javiss has a number of previous convictions, mostly acquired after this incident. He is also a father, and played a lesser role in the offence.
For the attempted murder charge, he brothers were each sentenced to 12 years and 10 months imprisonment after subtracting the month they had already spent on remand. No additional penalty was imposed for the lesser offence of wounding with intent. The case presented by crown counsel Tameka McKenzie was that on June 18, 2013, Kevin and Leteen had an altercation early that day at the leeward bus terminal, centred around passengers which they were trying to convince to board their respective minibuses. The buses worked the route from Kingstown to Campden Park. After this fist fight, the rest of the day was without occurrence.
At around 7pm in Campden Park, Leteen was at the bus stop when Kevin Chance ran at him with the cutlass, accompanied by Javiss. They pursued Leteen who ran into a nearby shop for refuge. However, in the sight of the shopkeeper and other patrons, Javiss held Leteen in place and Kevin chopped him multiple times. After hearing screams, the bus driver working with Leteen intervened and wrestled the cutlass away from Kevin. Javiss was unsuccessful in getting this cutlass back from the bus driver. The victim was carried to the hospital, while neighbours tried to stop the blood flow with towels.