Posted on
Man jailed for 24 years on two counts of attempted murder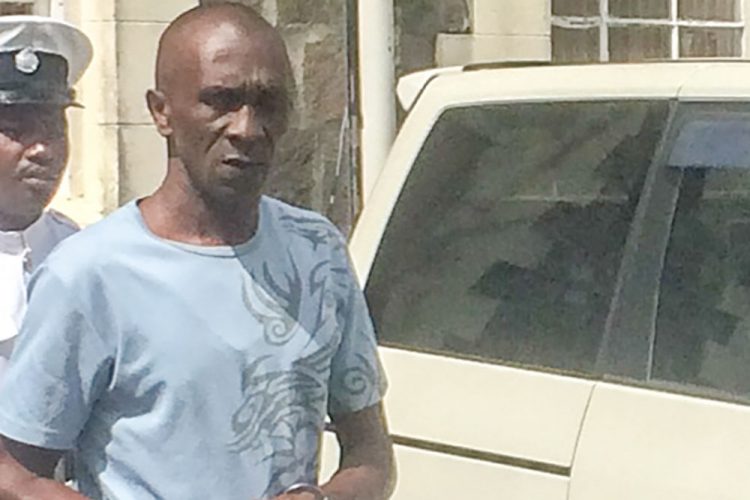 A man with 27 previous convictions is set to spend another stint in prison, probably the longest yet, at 24 years, after he attempted to murder his ex-girlfriend and her sister.
The combined sentence of 18 years for the attempted murder of Bernadette Sutherland, and six years for the attempted murder of her sister Keniesha Sutherland, was handed down to Lennie Baynes at the High Court on Monday.
The sentence of six years is much shorter than the 18 handed down for the first count of attempted murder, because of 'the totality principle', Justice Brian Cottle informed the court.
Further to these two serious offences, Baynes was also convicted for five others: two counts of wounding with intent inflicted on the women previously mentioned, one charge for wounding of Darwin Pope (the boyfriend of Keniesha), one charge of aggravated burglary, and one charge of damage to property (a window valued at $635).
When all was said and done, and his fate had been handed down to him, the prisoner did not understand the sentence and asked the judge to repeat, who attempted to do so in a few ways.
Baynes will spend 24 years in jail as the first two sentences will run consecutively, but all other sentences will run concurrently.
All of these crimes occurred on one night, all of them the product of a single enterprise, what the judge termed as the prisoner's "spree."
All the violence occurred on October 8, 2017, when Baynes, a few days fresh out of prison, decided to take a ladder and use it to climb into his ex-girlfriend's premises. Bernadette and Baynes were together before he went into prison, but were no longer an item after he was incarcerated. However, the two of them have a child together.
After succeeding in trespassing into the bedroom of Bernadette's Belle Vue home, Baynes then chopped her four times. There was a particularly serious laceration to her neck, and two other deep wounds. She was said to be sleeping on the bed with two children at the time, one of which was Baynes' child.
When Baynes left the bedroom he came upon Keniesha Sutherland in the living room, and he told her he would kill her. He walked towards her and brought down his cutlass twice. Each time she blocked the blows with her arms.
Her boyfriend Darwin Pope, who had been sleeping on the floor, then rushed to her aid, and fought with Baynes, in a tussle that took them down stairs, and during which a window was broken. Baynes had said to Pope that he had no issue with him, and that it was the women he came for.
During the fight Pope was wounded. Baynes on the other hand managed to make his escape that night, but not before shouting to Bernadette's mother that she was next, and that Bernadette must already be in the bedroom dead.
He made off into the night, while the family checked on Bernadette, who they found bloody on her bed, unable to get up.
Justice Cottle addressed the charge of the attempted murder of Bernadette first. Although he had no guidelines to work with for this charge, he noted that the fixed starting point for manslaughter, the least offence Baynes would have been facing had he succeeded, was 15 years.
However, he said the general consensus of the courts is that the sentence for killing someone ought to be higher that the sentence for attempting to do so.
Therefore, he started at a point of 12 years imprisonment.
He adduced a great many aggravating features from the circumstances of the case but could find no mitigating ones.
"This was an attack on a sleeping woman in her bedroom, you tried to chop her to death while she laid in bed with your child and another child. A weapon was used, multiple wounds were inflicted, you've displayed during the trial no remorse," Cottle listed.
He moved up three years, and so the sentence rested at 15 years.
However, there were still more aggravating features as it relates to Baynes as an offender. He had 27 previous convictions, including for wounding and "several convictions for assault causing actual bodily harm."
"What is clear to me is that you are not taking advantage of the opportunities for rehabilitation which have been provided," the Judge concluded, raising the sentence by a further three years, to 18 years.
For the attempted murder of Keniesha Sutherland, he could find no mitigating features. He noted that it too was an unprovoked attack on a young woman late at night in the sanctity of her home. Keniesha was told she would be killed, and she had to put up her hands in defence. The Justice believed it was really only the intervention of her boyfriend that "prevented the worst case from befalling" Keniesha. Baynes was given an incarceration term of six years to run consecutively with the 18 years for the attempted murder of Bernadette.
The judge ordered no additional sentence for the two counts of wounding with intent, as he considered them to be included in the larger offence of attempted murder.
For the wounding of Pope, Baynes was sentenced to seven years, and for aggravated burglary, 15 years.
For the damage to property, Cottle said he had considered giving a fine, but it was uncertain when this would ever be paid given the earlier sentences, and so he handed down a sentence of six months in prison.