Posted on
Man escapes custodial sentence on charge of vehicular manslaughter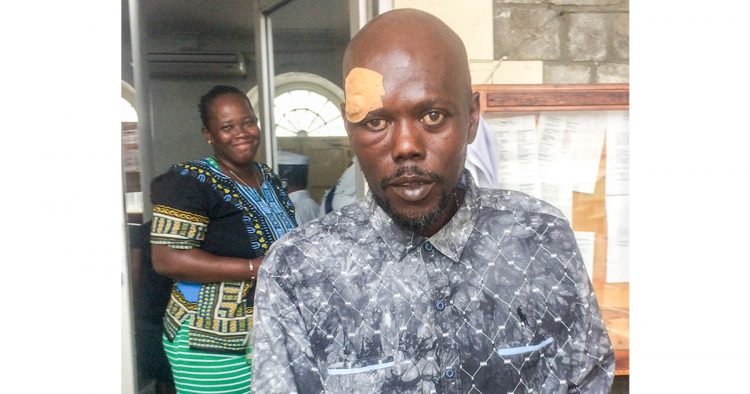 A case in which a man killed his common law wife by reckless driving, leaving their three children motherless has been described by the judge as "tragic".
Jaston Burke pleaded guilty on February 28 to the offence of causing death by dangerous driving on May 27, 2013.
Keisha Yearwood was 36 years old when she died. She was sitting in the front passenger seat of the vehicle, and there were two other occupants in the back, while Burke drove.
On Sunday, May 26, 2013, sometime after 11 p.m., the party left Park Hill for Byera, in the car owned by Burke, who did not have a valid driver's permit.
As they drove along "Colonarie Long Stretch" Burke overtook a car in front of him, and his car began to sway from side to side. It went over a nearby bank, and overturned.
Yearwood died on the spot, but the other occupants were said to have received relatively minor injuries.
Burke was said to have left the scene, in order to walk to the Colonarie Police Station, which was nearby. When he got there he told the Sergeant that the car he was travelling in had overturned and that his girlfriend appeared to be dead.
On the scene, the Sergeant was said to have observed the cramped body of Yearwood, and he asked Burke who was driving.
He was said to have replied that he had given his friend the car to drive and after it had overturned, the man ran.
"R yo catch um. He kill my girlfriend," Burke reportedly said.
He was also heard saying on the scene that night that he wished it was him instead of his common-law wife that died.
A post mortem on May 28, 2013, revealed that the cause of death was a cervical spine fracture. A motor vehicle inspector also looked at the vehicle on this day, and he found all four tyres to be smooth.
Burke told Justice Brian Cottle that he was sorry about the accident. He said that he had been with his girlfriend for 17 years, and that they have three children.
He indicated that he would like for Roxanne Yearwood, the sister of the deceased, to come to the stand.
Roxanne said that Burke was the only one supporting the three children, the oldest of which is 20 years old. She said that she herself was unemployed and that without Burke, she would not know how she would be able to support them. She asked the judge to have mercy, because if Burke goes to prison it will fall on her to take care of them.
Justice Cottle prefaced his reading of the facts with the statement, "this is a tragic case."
"When I looked at several of the regional authorities, my search revealed that in most cases for this offence, on a guilty plea, no period of incarceration was ordered," the Justice said while determining a sentence.
He reviewed a number of cases that imposed fines, banned the driver from driving, ordered compensation or imposed a suspended sentence.
Burke had no previous offences of this nature, he pleaded guilty, and he expressed remorse. "Indeed on the night of the accident he was heard to be saying he wished it was he who had died rather than his common-law spouse," Cottle stated.
Burke lost the mother of his children, and the children lost their mother, "and so I have concluded, in the circumstances of this case, I will not impose a custodial sentence," he determined.
He would not order compensation either, considering Burke is the father of the children, he continued.
Cottle fined Burke $4,000, to be paid in one year, in default of which he will spend a year in prison.
Burke is disqualified from obtaining a driver's license for three years.
Burke was followed outside by three women, one of who appeared to be his daughter.