Posted on
Duo sentenced for 'showing very bad judgment' in hiding $110,000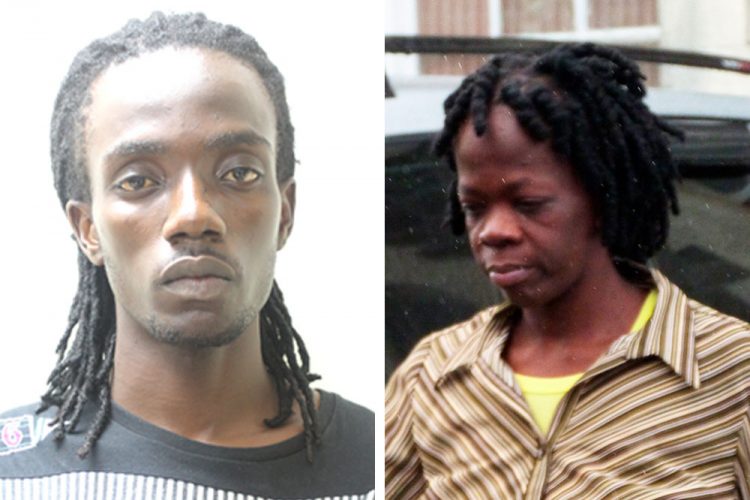 For displaying "very bad judgment" in concealing $110,000 of stolen cash, a duo could not escape jail time.
Kenetta James, a mother of Chateaubelair, and Mark Williams, of New Montrose, were sentenced on March 8 by Justice Brian Cottle, after being convicted by a jury in January this year for the offence of handling stolen goods.
James and Williams follow in the footsteps of Junior James, Kenneta's brother, who pleaded guilty to the June 21, 2013, burglary of the Georgetown branch of the Government Employees Cooperative Credit Union (GECCU), during which $110,000 was stolen from a safe.
Junior James was sentenced to seven years imprisonment, minus the three years and some months that he had already been incarcerated.
The facts accepted by the court show that Williams and Kenetta James both hid the money for Junior James.
Williams had first met Junior drinking at a shop and he apparently told Williams that they "eat a food" in Georgetown.
Williams became involved in this matter when he visited Junior James in custody after Junior had been arrested for the offence. It was said that Junior then whispered to him to collect the money from a "Tantie Mary".
This woman gave him a bag of money, which was dirty and appeared to have been buried. He took the bag home, took out $1100, and then hid the bag in his backyard.
This money was used to secure a lawyer for Junior James, some money was given to Junior's girlfriend, and some Williams kept for himself.
After receiving further instructions, Williams was to hand over the bag of money to Kenneta.
Kenneta took the money back to her home in Chateaubeliar and buried it in the hillside.
The police came to her home to execute a search warrant but nothing was found at first. However, Kenneta ended up giving them the bag.
The maximum penalty for the offence of handling stolen goods was noted as being 10 years imprisonment, but the Justice decided to adopt a starting point of four years.
Both individuals were thought to be candidates for rehabilitation, James by the prison authorities who have been observing her behaviour since her incarceration, and Williams' neighbours.
James had no criminal record before she decided to assist her brother, but Williams had some serious offences to his name. When he was 10 years old, and also when he was 16 he was convicted for burglary. However, the general consensus is that he turned his life around after the second burglary and he is now described as a quiet and hardworking individual. The Justice decided that he was considered these offences to be dated, committed when Williams was much younger. He did not count them as an aggravating factor.
For Kenneta, she assisted the police, and her personal circumstances are that she is the mother of one daughter.
The judge described Williams as having a "troubled childhood" and noted that he dropped out of secondary school in the fourth form.
He decided to move downwards from his starting point of four years, to a final sentence of two years.
However, the duo had both already spent some time in jail with regard to the offence. Therefore, Williams has a remaining sentence of nine months and 15 days, while James will be incarcerated for a further one year, five months and 15 days from March 8.
The case was prosecuted by crown counsel Karim Nelson. The two defendants were unrepresented.