Posted on
The magistrate did me no favour – King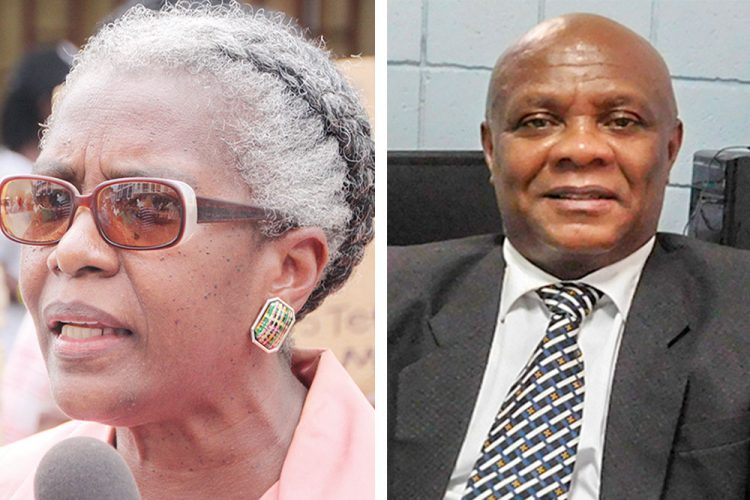 A former magistrate thinks that Magistrate Bertie Pompey was well within his right when he went to the Questelles Police Station to lift a bench warrant he had issued a day before.
"Think of it as a magistrate signing a warrant while at home. That is done regularly. I would not be pleased if persons visited me during the weekend for something like what they visited Magistrate Pompey for, but that is me…," the former Magistrate told SEARCHLIGHT on Thursday.
Political activist Luzette King was detained last week Friday after a bench warrant was issued for her arrest when she did not turn up at the Mesopotamia Magistrate's Court that day.
King was expected in court to answer a charge of causing inconvenience to the public in the exercise of public rights, to wit, by sitting in the public road hindering the free flow of traffic, contrary to Section 282 of the Criminal Code, Chapter 171 of the revised edition of the laws of St Vincent and the Grenadines 2009.
She was arrested in January 2016 as she sat at the side of the road outside the electoral office, after police instructed her to move. King, along with a group of persons, was protesting the outcome of the 2015 General Elections.
The activist told SEARCHLIGHT she mixed up the date, thinking that she had to appear on Monday February 11.
When she did not show up at the Mesopotamia Magistrate's Court, Pompey issued a bench warrant for her arrest. After hearing this, King reported to police headquarters in Kingstown, after which she was told to go to the Questelles Police Station, where she was detained.
But on Saturday, the magistrate visited the police station, rescinded the warrant and gave King a new court date.
The matter was discussed on social media, with some questioning the fact that the magistrate visited the police station to lift a bench warrant over the weekend.
King has taken offence to persons saying that Magistrate Pompey did her a favour, and on Tuesday, she told a SEARCHLIGHT journalist that one should consider why Magistrate Pompey "find himself at the police station to make a first of me. Why am I so special with a matter that is a traffic offence?"
"After having me sleep in a cell at night for a traffic offence lasting three years, and I never ever missed a hearing," King stressed.
She added that a court order for disclosure issued by the court has still not been complied with and therefore her case could not have gone forward last week Friday, and the bench warrant should not have been issued.
King told SEARCHLIGHT that persons who think Pompey did her a favour are "dangerously bias" and she has been in court and it is not automatic that a bench warrant is issued when a court date is missed.
"My lawyers were looking for him, went to his house, saw his vehicle there; we don't know if he was home, but there was no answer, he didn't answer his phone, he didn't answer his WhatsApp, he didn't answer the door, if he was in.
She went on, "…. I don't want no favours from nobody, deal with the law, I don't want no favours from nobody and it is because I didn't want no favours that I walked into the station."
Yesterday, the former magistrate told SEARCHLIGHT that King is wrong to thing this way as in her absence, the court is well within its right to issue a bench warrant, the same way the magistrate is within his right to go to the station and lift it.
"She's wrong for thinking the bench warrant should not have been issued," said the former Magistrate who added that the court could not assume that she would turn up at her next hearing and had to follow the correct procedure.
Another former magistrate contacted by SEARCHLIGHT said, "I for one would never do it. She would be brought in Monday and I'd deal with her there. She is no different to any other person for whom a bench warrant is issued. Why come to my home and disturb me on a weekend?"
This former magistrate said the public will henceforth expect this to be done for other persons as well.
"They will look at it as, 'Why do I have to abide, and she gets preferential treatment? What could be the justification?' Magistrates need to be strong," said the lawyer.