Posted on
Woman was attacked with both words and a stone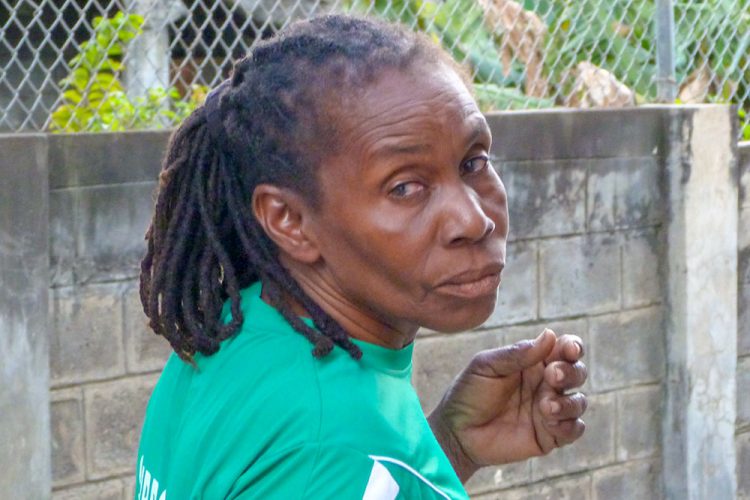 A 61-YEAR-old woman was attacked with both words and a stone last Friday, when she was called "Knock-ah-koo" and hit in the head with a concrete block.
The culprit, one Arlene Gaymes, 54 years of Barrouallie, admitted that she did unlawfully and maliciously wound Claire Ashton of Barrouallie on January 11. She admitted this at the Serious Offences Court on Tuesday.
The two women know each other well, but are not friends.
They got into an argument after Gaymes, who was sitting under the Barrouallie bus stop, apparently called out to Ashton, "Knock-ah-koo, Knock-ah-koo," and Ashton responded "Knock-ah-koo look better than you." The argument escalated, and the defendant picked up a concrete block and threw it at Ashton. It struck her in her head.
Gaymes was arrested soon after a report was made, and she admitted to the offence to the police.
Chief Magistrate Rechanne Browne-Matthias asked the defendant why she shouldn't send her to prison.
"My honour I ask you please because is the first time that ever happen to me…," she replied.
The chief magistrate told her that she hadn't provided a good reason,and stated, "you're cantankerous, you're malicious, you interfered with the woman first."
"I not a warring person," Gaymes insisted adding that she had been calling to her friend.
Browne-Matthias did not believe her, and found her timing suspicious.
Further, the chief magistrate stated, "If you were trading words, she tell you something, you tell she back something, how it come to pick up a stone?"
The Chief Magistrate spoke about the extent of the injuries which the 61-year-old had received.
"This is what annoying me. This is not a little injury. Her head was buss, according to local parlance. She had a buss head, she had to get STITCHES in the head," she told Gaymes, after having read the medical report. "Her eyes are bleeding… Bleeding to the left eye! This is a SERIOUS injury to her head. She could have been DEAD," the chief magistrate emphasized.
Senior Prosecutor Adolphus Delplesche stood to say that he would like to make a contribution to sentencing, but would need time to make some inquiries.
Browne-Matthias responded that she had intended to remand Gaymes into custody because of the seriousness of the injury. She said that she would take into account the guilty plea, and that there was no criminal record provided at that point.
She asked for a medical report on Ashton's condition, because she wanted to know how the victim was progressing before sentencing. "Because a head injury, I am thinking, with this kind of discolouration and so on in her face, if she has had follow up, checks, X-ray, MRI…," she stated.
The last thing Gaymes said was "I asking you please because I have something to reap."
"Anything you have to reap will stay in the ground," Browne-Matthias responded, telling her that she should have thought about the consequences of her actions.