Posted on
Man gets 10 years for 2nd manslaughter conviction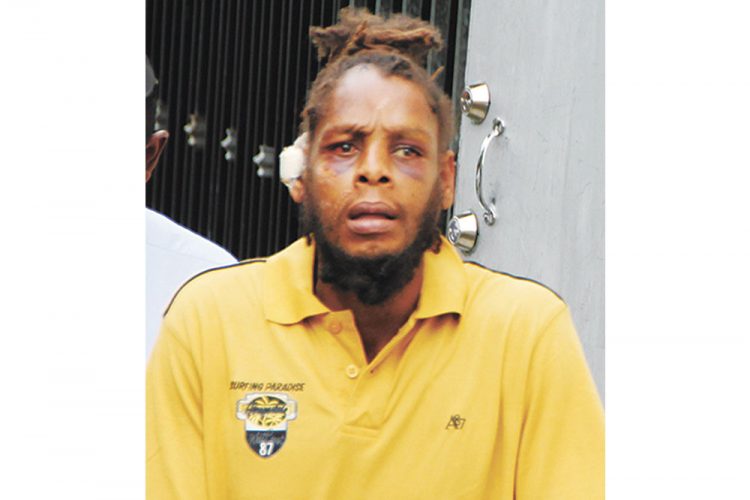 A 40-YEAR-OLD man was sentenced for manslaughter for the second time in his life this December, receiving a sentence which was effectively 10 years imprisonment.
Ian Gould had been imprisoned since the time five years and four months ago, that he wielded his knife against Owen 'Big Ras' Pompey on August 12, 2013, and thus he was sentenced
to spend a further four years and eight months in jail.
Gould is said to have some psychological issues, but he was deemed fit to plead earlier this year, and thereby he pled guilty to the offence on December 3.
Gould had given a statement admitting to dealing the final blow to 'Big Ras' when he was picked up by police in August 2013.
He said that Pompey had approached him while he was 'molding' his ital in the mountain, and had accused him of stealing his coconut, cannabis and food stuff.
It was later revealed that the plants which Gould had been farming were Marijuana.
Gould said he had asked 'Big Ras' what "kinda scene he dey pon," and 'Big Ras' had chopped him. Gould apparently had a brown handled knife, which belonged to him in his hand at the time, and used it to stab 'Big Ras' on his neck.
When 'Big Ras' fell, Gould said he continued to stab him, and 'Big Ras' rolled down the farm.
A post mortem later revealed that 'Big Ras' had received 13 stab wounds, which were mostly concentrated in the area of the deceased's head and neck.
The next thing that Gould did was retrieve a hoe to dig a hole at the bottom of the bank, which proved to be difficult because the ground was hard.
The defendant said he instead dragged the body to a nearby embankment.
Gould was discovered by a search party which had gone looking for 'Big Ras' after the deceased's common law wife had gone two days without hearing from him; he having told her he was going to farm.
The search party included relatives and friends of 'Big Ras,' who upon seeing Gould coming from an embankment area with a hoe, asked him to search in that area with them, for the deceased.
Gould apparently was reluctant to do so. Two reasons for his coming from that area with the hoe were given, the first being that he was weeding. No sign of that was later observed by the party, who then became suspicious. Gould changed the story to one where he had been using the toilet, but he would not show the persons where he was using the toilet.
Things became heated, and Gould became scared, so he apparently said, "Oh God nah kill me, he dey down dey, but he nah dead."
As it turns out, 'Big Ras' was dead, and his decomposing body was observed in a shallow grave by the search party, and they apparently beat Gould, before tying him up.
These facts were presented by counsel for the crown, Tammika McKenzie, to High Court Justice, Brian Cottle.
Defense Attorney Ronald Marks spoke about his client's childhood, which included an absentee father in the form of David Bonadie, and a mother who left him at age ten, namely one Rhonda Gould.
After living with his grandmother until his early teens, Gould left and spent his time with the wrong crowd, said Marks.
The first conviction for manslaughter came when Gould was in Barbados.
"He came back to St Vincent, and My Lord he made a vow to try and keep by himself as much as possible. M'Lord he isolated himself to himself in the hills. He was living a hermit life up there," Marks explained.
"But the trouble M'Lord, that has him here, found him on that farm, in the form of the deceased man," the lawyer continued.
The one third discount that is given to all those who plead guilty at the first opportunity, was asked to be applied to Gould as well. Marks said that his client had wanted to plead guilty since March of this year, but the evaluation was still required. He also mentioned that his client had admitted to the offence when he was first interviewed by the police.
The lawyer ended by saying that Gould was a good prospect for rehabilitation.
Justice Cottle did not seem to agree on the point of rehabilitation.
"You(Gould) find yourself before a criminal court for sentencing for the offence of manslaughter for which you have pleaded guilty. This is not an experience which anyone should have to face in life, certainly not an experience which anyone should have to face a second time," he said.
Further, the Justice commented, "He has been given an opportunity for rehabilitation already, and sadly, it seems that he did not take full advantage of it."
The one third reduction for the guilty plea was allowed, by reason that Gould had admitted the offence to the police, but no reduction was given for any 'personal circumstances,' "having regard to the fact that it is not his first time before a criminal court for this type of offence."
Cottle, guided by the set principle that the starting point is a custodial sentence of 15 years, reduced this to ten years.
The time that the prisoner has already spent in jail was subtracted from this.
Gould, who sports a scar above his lip, and a removed middle finger on his left hand, stepped down from the dock, and was taken to Her Majesty's Prison.