Posted on
Two murder suspects face several charges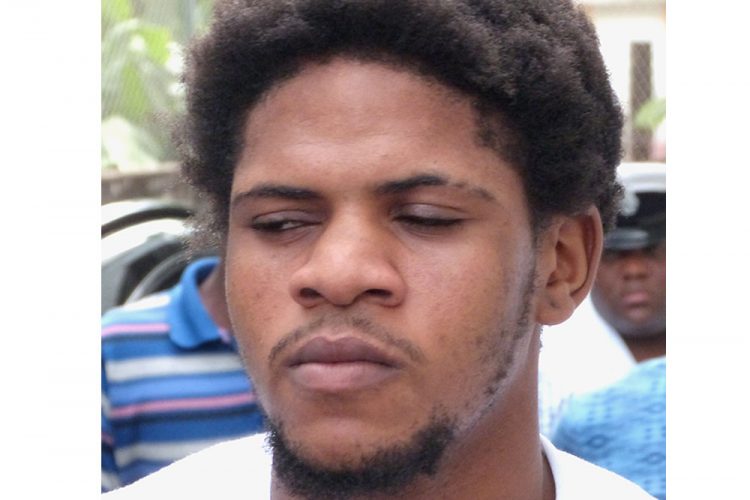 Two of the murder suspects in last week's killing of a Redemption Sharpes shopkeeper have been shackled by two separate criminal charges as investigations into the murder continue.
Yesterday, at the Serious Offences Court, Senior Prosecutor Adolphus Delplesche presented the case for Jerroy 'Jay-Jay' Phillips, and Lionel 'Gubler' George's continued confinement.
"The investigator has informed your honour, that the accused is of interest to the police in other investigations of a similar nature, and also of a capital nature. Those investigations, he has informed your honour, are at a very delicate position, and they'd like to have some time, to proceed with those investigations, unhindered," Delplesche told Chief Magistrate Rechanne Browne-Matthias.
Delplesche was commenting in relation to Phillips, 22 years of Redemption Sharpes, who had just been charged with armed robbery, committed on Independence Day, at McKies Hill. Phillips is alleged to have stolen a Samsung Galaxy phone, valued at EC$500, the property of Antonio Baptiste. Further, Phillips is also charged with, on the same date, and in the same place, stealing and carrying away Baptiste, without his consent.
Much the same argument was purported by the prosecution in the case of George, 25 years of Rockies, who was charged with attempted murder. The charge for George reads that he did, on November 4, in Rockies, with intent to commit the offence of murder on Tevin Williams of Rockies, did an act that was more than merely preparatory to the offence.
The prosecution noted that Williams had been discharged from the Milton Cato Memorial Hospital(MCMH)last Friday, after being treated for gunshot wounds to the chest.
However, Delplesche objected to 'Gubler' being granted bail.
"The accused has a constitutional right yes, and the state also has a constitutional right to proceed with investigations to protect their citizens. So we have to put it on the balancing scale your honour. He is presumed innocent, that is only a presumption your honour, so we are asking for a little more time," he stated.
"I always like to use my Columbus phrase, give a few more days, we might find land," Delplesche had asked.
Browne-Matthias denied bail for both Phillips and George, and bail review set for November 26.
The two defendants were taken into custody last week, following the discovery of the body of Sabitree Lyttle, a 56-year-old mother to three, in her Redemption Sharpes shop and home that she had shared with her husband and children last Wednesday afternoon. Lyttle was shot to death.
Phillips was apprehended following the issue of a wanted bulletin by the police, and reports are that George turned himself in last Thursday.