Posted on
Gunshot victim charged with five offences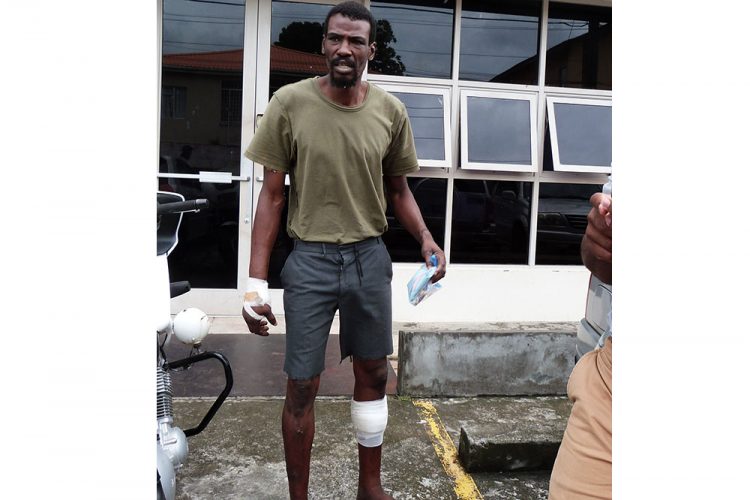 NOT ONLY was 'Spragga Benz' hit by a bullet in Paul's Avenue last weekend, but he also took another five hits in court this Wednesday, after he was given five charges.
Prosecutor Corlene Samuel informed the court that Farax 'Spragga Benz' Prescott was on the run from the police, but on the date he was picked up by police, the only reason he did not run was because he had an injury, and could not.
The defendant was shot mid-calf in his left leg, during an incident which occurred last Saturday, in the area of Avenue Sports Bar in Paul's Avenue, and allegedly involved three gunmen. As reported by SEARCHLIGHT, in the Midweek edition, the gunmen are said to have walked casually into the area, and were recognized by those who were hanging out there. It was apparently not until someone who didn't know the three men, asked who they were, that the three pulled firearms and began shooting. In the wake of the gunshots, Len 'President' Stowe, was left lifeless, and Prescott, along with Erel 'Boatie' Hector, and Dino King were left wounded.
Prescott, who walked slowly into court as he sported a bloody bandage on his left leg, seemed frustrated as he told Senior Magistrate Rickie Burnett about his having been shot. After being discharged from the hospital on Monday afternoon, he said he went to get something to eat in Paul's Lot, where he is known to be living, and he was seen by the policeman in the transport.
He told the magistrate that the police officer who arrested him was the only one "pushing it," presumably referring
to his charges. He said that the other police officers were willing to make a deal with him.
Prescott maintained his innocence on all five charges. He was charged that he did on September 4, steal $50 in cash from Amos Baker of Vermont. On September 1, he is alleged to have unlawfully and maliciously wounded Ishmael Jack of Kingstown Park, by chopping him, and stealing $180 from him. He is charged that he did, between September 25 and 26, steal 13 piglets, the property of Bradley Bynoe, and that on September 26, he dishonestly received 13 piglets, believing or knowing them to be stolen goods.
The prosecution did not object to Prescott's bail, but the defendant claimed, "me ain get nobody to bail me," and that his mother and father were dead.
The 40-year-old was asked by the senior magistrate, "No one in a population of over 100,000…you can't get somebody to bail you?"
The prosecution chimed in, saying that she has known of Prescott for over five years, that he has come to the Kingstown Magistrate's Court when Magistrate Bertie Pompey was presiding there, and "his reputation precedes him."
"Don't say so," Prescott stated, calling the Almighty. "I mek sure come back courts," he said.
After consideration, Burnett stated, "I'm going to grant him his own bail prosecution. Let him fail me."
Bail in the sum of $4,000 was granted to him, and the matters adjourned to October 29 and November 12 respectively, as other persons have already been charged with some of the matters that Prescott was charged with.