Posted on
Two on robbery charges granted bail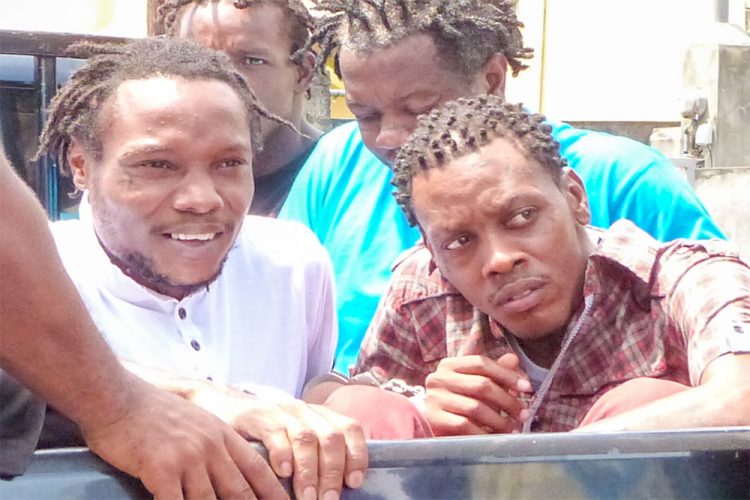 Two of five men on robbery and wounding charges were granted bail this Wednesday, after the prosecution indicated that they would no longer object.
Rocuan Robinson, 29 years of Campden Park, and Elroy Rogers, 26 years of New Montrose, were late in coming to the Kingstown Magistrate's Court for their bail review, the transport apparently having encountered mechanical difficulties.
Senior Magistrate Rickie Burnett, who noticed their absence, stated that he would not accept that excuse, since three other defendants, Ettian Charles, Glenville Harry and Olrick 'Chucky' Hanson had been brought to court.
"The two other defendants must be brought to court this morning," Senior Magistrate Rickie Burnett stipulated.
All five defendants were previously charged with the September 15 robbery of Dr Reisha Twana Browne-Caesar of Cedars, the armed robbery of Lisa Wilson of Brighton, and the wounding of Grafton McDowall on September 14.
Robinson, and Rogers, have been gunning for bail since these charges were laid against them two weeks ago, but prosecution has been consistently objecting.
The two, unlike their co-accused Charles, Harry and Hanson, were not additionally charged with the murder of Rodney George.
This Wednesday, Senior Prosecutor Adolphus Delplesche said that he was not objecting, but asked for sufficiency of surety, reporting conditions of twice weekly, an order that they have to seek permission for travel and "no contact whatsoever with the virtual complainant."
The senior magistrate granted bail in the sum of $20,000 to the defendants. He made a no contact order and that they both report to the police station every Monday and Friday, between 8 a.m. and 8 p.m. A curfew was also ordered, and they must have express permission from the court if they wish to travel.
The preliminary inquiry is to begin on January 14, 2019.