Posted on
No hope of bail for trio on a host of criminal charges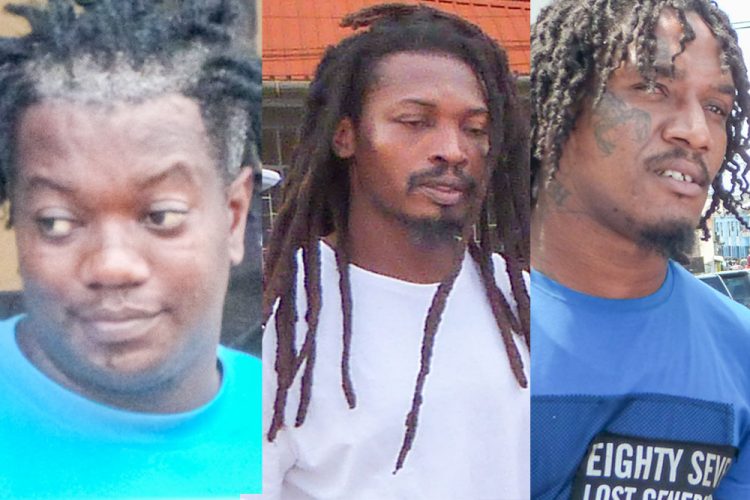 Any hopes of bail, that three on a host of criminal charges may have had, were sliced this week, as the slit throat murder of a security guard was added to the list.
Suspended police officer, Ettian Charles, and fellow prisoners and alleged co-offenders Glenville Harry and Olrick 'Chucky' Hanson returned to the Kingstown Magistrate's Court this Wednesday.
This week, unlike last week, the accused persons would utter no words, not even to plea, as the weighty and indictable charge of murder was added to the serious offences that they already must address at trial.
Last week, Hanson, Charles and Harry, charged with the armed robbery of Lisa Wilson of Brighton, robbery of Dr Reisha Twana Browne-Caesar of Cedars, and wounding of Grafton McDowall of Brighton, could still plead their case for bail.
This Monday, Charles, on a separate charge of illegal possession of firearm and ammunition, may have seen a glimmer of hope after bail was granted to him for this offence.
However, this Wednesday the trio was informed that they were charged with, in Arnos Vale, between August 31 and September 1, with malice aforethought, causing the death of Rodney George of Victoria Village by an unlawful act. Therefore, the case of bail was abruptly closed.
The three were also charged with, on the same date, and in the same place, entering the GEC Auto Supplies Ltd as a trespasser and stealing $2,000.74 in cash, the property of Gevandeon Wilson of Villa/United States of America.
The trio are now in the company of Mayreau resident Jerome Ollivierre, who was charged with the murder of Rodney George and burglary last Friday.
Ollivierre had been taken to the Serious Offences Court, but Senior Prosecutor Adolphus Delplesche indicated that all matters should be heard at the Kingstown Magistrate's Court.
The prosecutor indicated that the situation was that Inspector Cheryl James would end up with around 20 witnesses, and that she would be ready for preliminary inquiry by January, 2019.
The senior prosecutor complimented the Inspector, saying, "The investigation is, I would say, 95 per cent complete, and Inspector Cheryl James did a tremendous job." Turning to the Inspector in court, he told her, "Cheryl, you're good."
However, Ollivierre "has retained Mr Israel Bruce in his matter," Delplesche stated, who had informed that he would not be in state for the first three months of 2019.
Since Ollivierre's inquiry had been adjourned to April 10, senior magistrate Rickie Burnett decided to maintain this date. Therefore, the four accused will return to court on Wednesday, April 10, 2019.
The body of security guard Rodney George, who was on duty at GEC Auto Supplies Ltd at the time of the burglary, was discovered on September 1. His death is the 23rd recorded homicide for 2018.