Posted on
Young man jailed for 3 years on gun, ammo possession charges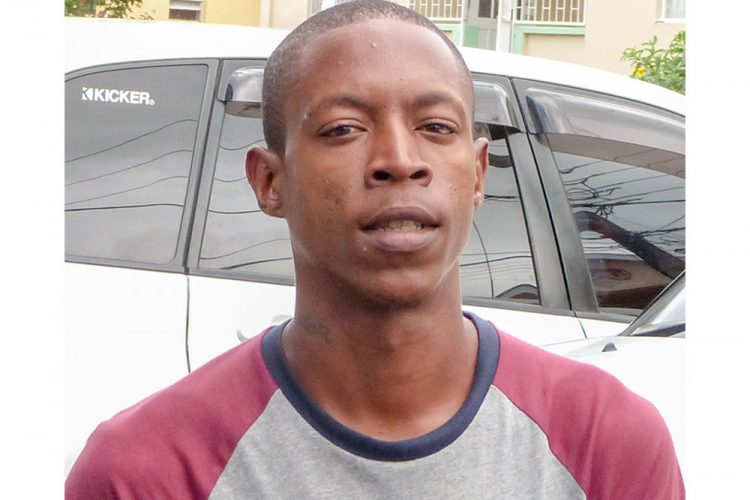 A 25-year-old who pled guilty to possession of an illegal gun and ammunition, and said that it was for his protection, was not protected from a three year prison sentence.
Kimron 'Fish' Peters of South Rivers/Baibou, returned to court two days after he was first charged with the offences of possession of a .45 semi-automatic pistol, and seven rounds of ammunition, to plead guilty.
When the charge was first laid to him at the Serious Offences Court last Monday, Peters was not required to plea. The charges were put to him again last Wednesday, and after pleading guilty to both, he was sentenced.
Peters was apparently picked up by the police when they were on patrol at 12:47 a.m. on September 8 in the McKies Hill area, close to Haddon Hotel. He was said not to have been alone, and was accompanied by two others.
After the police spotted the group, the police transport pulled to the side of the road, and conducted a random search on all three.
PC 334 Harry was said to have found a pistol 'stocked' in the right side of the pants waist of the defendant, and upon removing it, was greeted with the response, "Oh God Harry, ah mine. Ah beg your pardon please." Further checks revealed six rounds of ammunition in a magazine, and one round of ammunition in the breach of the gun.
Peters asked that he be given a fine, and said that he was trying to change his life.
He said that "due to circumstances," he had a firearm in his possession "for my protection."
Chief Magistrate Rechanne Browne-Matthias asked him why he didn't go to the police. "That would have been a more sensible option to take if you felt under any way threatened or targeted," she told Peters.
She continued that they (the police) were not only there to arrest, but to assist.
After standing the matter down to think about sentencing, Browne-Matthias began by saying that "regrettably a fine is not gonna be a consideration today."
She dissected the level of seriousness, saying that she noted that there were two others with him, and that the firearm was "charged and ready for use." She also noted the time in the early morning when Peters was caught, "when all is quiet on the streets, and persons are in their beds," and that the area was lonely.
However, the magistrate noted that he had expressed "great remorse," when he was caught by the police and since then, and, as well, that he had pleaded guilty.
She gave him three years in prison for the illegal firearm, and one year for the ammunition, to run concurrently.
She told Peters that he, "disappoint a lot of people, and I'm sure mostly yourself, today."
Peters is also charged together with Seage John, for armed robbery on one Euilton Wilson of Twenty Hill, on September 8. This matter is ongoing, and indictable. Therefore neither John, nor Peters, was required to plea to that offence.