Posted on
'Tone Boss' charged in assault of another woman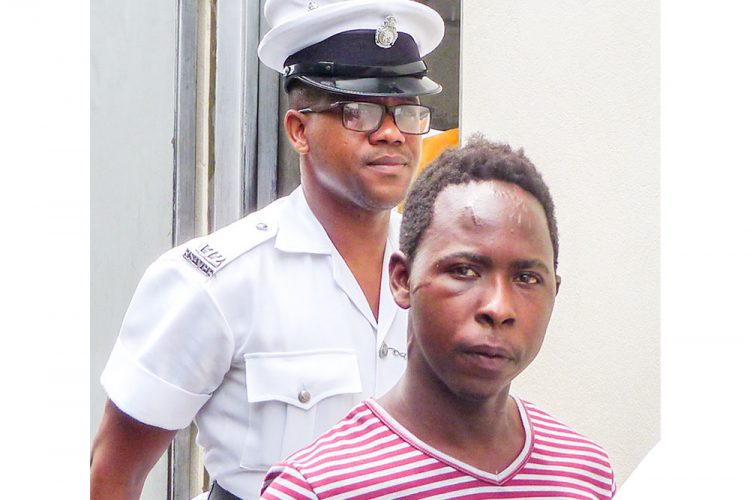 The 19-year-old who is expected to be charged for the assault of a woman at Indian Bay, most of which was captured on video, was charged for a separate incident.
Terrano 'Tone Boss' Samuel was brought to the Serious Offences Court last Friday, but he has not yet been charged in relation to an assault that happened at Indian Bay a few days prior.
Instead, three charges were put to Samuel, from an incident which is said to have occurred on August 6, in New Montrose. The defendant was charged that he did enter the house of a 90-year-old retiree and had with him a weapon of offence, namely a knife, and that he did indecently assault and unlawfully and maliciously wound a 53-year-old female by stabbing her on the left leg with the knife.
The accused, whose right hand appeared to be heavily bandaged, was not required to plea to the offences at that juncture.
Senior Prosecutor Adolphus Delplesche objected to bail for Samuel as the police officers in Calliaqua are looking into a series of offences for which the defendant is of interest.
"They (the investigators) are asking for time," to do some more investigating, Delplesche told chief magistrate Rechanne Browne-Matthias. He said that giving the defendant on bail was expected to hinder these investigations. He promised that the investigators would work assiduously. The Chief Magistrate decided to remand Samuel in custody until September 21, when bail will be up for review.
There were two persons who spoke to Samuel briefly outside the doors of the court, one of which was a woman, and there seemed to be an exchange of money.
It was announced last week that Samuel is expected to be charged with assaulting a 32-year-old woman on September 11.
The assault of said woman was captured by Closed Circuit Television at Indian Bay. Footage shared after the incident shows an individual waiting at a deserted hotel at the beach, and a woman coming from the beach with two dogs. Said perpetrator crept behind the woman, who turns around to see him approaching her. The two fight, the woman kicking her attacker at one point. During this time, the two are out of view of the camera momentarily. The perpetrator then returns in view, picks up two objects off the ground, and escapes.