Posted on
More charges slapped against teen duo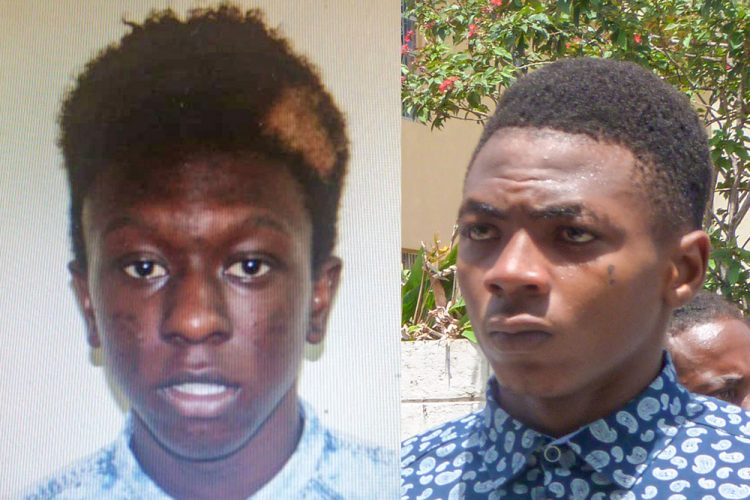 For the two 16 year olds charged with 'stealing and carrying away' four women, more charges were piled on last Friday.
As five further charges were handed down to Dale Hooper and six to Ozem Oliver, the prosecution, now privy to certain information, objected to bail for the two.
Oliver and Hooper were both charged that they did on August 17, in Villa, unlawfully threaten to discharge a firearm at Johanna John of Queensdrive, Shanez Francis of Harmony Hall, Alliyah Bullock of Welcome and Jade Adams of Redemption Sharpes. Not guilty was the chorus that the two defendants kept after these charges were read.
Oliver was charged solely that he did, on the same date, and in the same place, have in his possession an offensive weapon, to wit an imitation firearm.
The two were also charged with separate offences. Oliver was charged indictably that he did, on August 10, in Glen, being armed with a gun, rob Denise Baptiste of Glen of one gold Samsung Galaxy cellphone valued at $1,100, putting her in fear of being then and there subjected to force.
Hooper was charged alongside Donroy Warner with, between July 24 and 25, in Ratho Mill, enter the premises of Gregory Ferrari as a trespasser as stealing a number of items, ranging from a television to skim milk and Baileys. Both pleaded not guilty.
Prosecutor Corlene Samuel told the court that she received further information, and that she was objecting to bail for all three defendants. She indicated that the police were doing investigations with respect to a spate of robberies and burglaries in the area and that all three defendants are of interest to police, "along with some others". If they were released, it was submitted that the defendants would hinder investigations.
Further, Samuel informed that the victims had expressed that they were "afraid for their lives."
She asked that the defendants be remanded for a week "so that a firearm that was used could be recovered."
Senior Magistrate Rickie Burnett asked the three if they had any response to this. Oliver and Hooper indicated that they had already spoken to the police and given them all the information. Burnett told them that an investigation was more than this.
Warner spoke of a nine-month-old baby who he said had nowhere to go.
Indicating that he was making orders for the matters before him on that day, Burnett remanded the three until August 31.
A while after the matter was stood down, and the three were seated in the prisoner's bay, they could be observed conversing intently with each other.
Last Thursday Hooper and Oliver were charged with 14 and 12 charges respectively. Among these charges, were four for stealing and carrying away four women, four for aggravated burglary, two for assault occasioning actual bodily harm and traffic offences.