Posted on
Duo charged with stealing and carrying away four women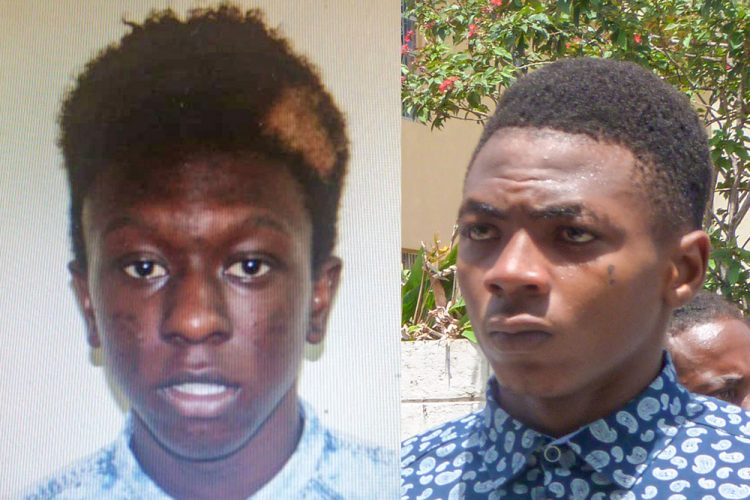 Two teenage boys were brought to court on Thursday charged with stealing and carrying away four women on August 17.
Dale Hooper and Ozem Oliver, both 16-year-old students, tried their best to hide their faces as they entered the Kingstown Magistrate's Court yesterday.
Both boys are residents of Glen.
Oliver had 12 charges put to him, while Hooper was also charged solely for a further two.
Oliver and Hooper were not required to plea to eight charges that were put to them, as they are indictable.
Four of these charges were that on August 17, in Villa, both defendants stole and carried away Johnanna John of Queens Drive, Shanez Francis of Harmony Hall, Alliyah Bullock of Welcome and Jade Adams of Redemption Sharpes.
The other four charges are that they did, being armed with a gun, steal items from each of these women, and put them in fear of there and then being subjected to force.
The teenagers are alleged to have stolen an Iphone 6 Plus and $390 from John, $9 from Francis and a Samsung cell phone and $36 from Bullock. Adams was relieved of a brown leather bag, house keys, lip gloss, shades, a pair of headphones, a silver Iphone 6s and $30.
Summarily the two are charged with, on the same date and in the same place, damaging the rear door and windscreen of motor vehicle P3557 and being reckless as to whether they were damaged. They were also charged that they did drive this vehicle without the consent of the owner, or any lawful authority. Hooper pleaded guilty to these, and Oliver pleaded not guilty.
However, both pleaded not guilty to assaulting John and Bullock and causing them actual bodily harm.
Hooper was charged on his own that he did on August 17 in Villa public road, being the driver of P3557, drive said vehicle without him being the holder of a driving permit. He pleaded not guilty to both of these.
Senior Magistrate Rickie Burnett rejected prosecutor Corlene Samuel's request for Hooper and Oliver to be placed on a curfew, but accepted the request for reporting conditions and no contact orders.
Bail was allowed in the sum of $15,000 with one surety, and the young men are to report to the Calliaqua police station every Monday and Friday. The matter was adjourned to September 3, and transferred to the Serious Offences Court.
[UPDATED on August 24, 2018 at 2:40 pm to include the ages, occupations and addresses of the boys]