Posted on
Farmer was going to sell weed to cover dental expenses – lawyer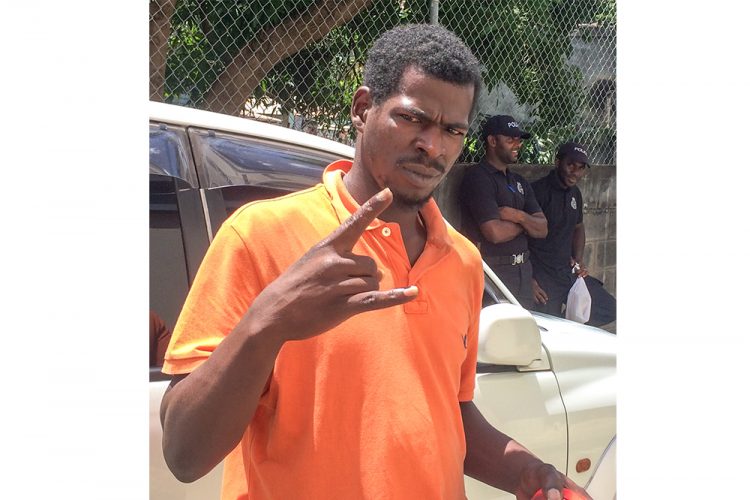 Jamaire 'Shabba' Lowmans
---
The season of misfortune hit one farmer when his teeth began falling out, and continued last weekend when he sat next to a police officer with his illegal drugs.
This was the tale of Jamaire 'Shabba' Lowmans, as it came to light, when he appeared before the Serious Offences Court on Monday charged with possession of 307g of cannabis.
Lowmans, who plead guilty, had apparently been apprehended in Little Tokyo close to noon on Saturday. Of all the minibuses in Little Tokyo, he had chosen to get in one where PC 831 Nekisha Layne was sitting, as well as sit next to her in the back. The seasoned police officer then smelled what seemed like the odour of Marijuana coming from the knapsack in the defendant's possession.
PC Layne, who was not in uniform, then showed her police ID card, and requested a search of the bag, which revealed two plastic bags containing what looked to be marijuana.
"Is weed, small smoke," Lowmans apparently said to her.
Layne then asked the driver to drive to the Central Police Station, and upon closer examination it was noted that there were 28 smaller bags packaged with the substance in one of the plastic bags. The bag contained loose marijuana.
Attorney Grant Connell began his mitigation for 'Shabba' by saying that he was a 31-year-old father, and only had one previous offence of a similar nature.
A farmer with a small plot of land with ginger plants, his crop would be ready by the end of the month, Connell indicated.
However, ginger wouldn't cut it for the expenses needed to go see the dentist, and Lowmans had apparently got cannabis from a friend to "make a quick dollar".
"If you ask him to smile, you will see the manifestation of my submission," the lawyer insisted, saying his client was in tremendous pain.
'Shabba' added, to amusement, that his teeth were just dropping out because they weren't good, while gesturing with his fingers a repeated falling motion from his mouth.
Connell said that his client had had the drug in the "depths of his bag" while going home.
Here the lawyer commented that marijuana seems to have an 'orgasmic effect' on police officers, and that they were 'great sniffers.'
He asked that a small fine be imposed as the defendant was a poor farmer, and informed that the street value for the amount of cannabis in evidence before the court was $400. He asked for some time to pay the fine, until the farmer got some money from his ginger harvest.
Although noting that the way the drug was packaged suggested that it was for sale, Chief Magistrate Rechanne Browne-Matthias did not see it fit to impose a custodial sentence.
There was also some talk inspired by the mitigation, about the higher or lower price that ginger would fetch. The case, which started at one dollar per pound, settled at the reckoning that it was six dollars a pound.
Browne-Matthias gave 'Shabba' until July 5 to pay $600.