Posted on
Welfare workers save the day for young phone thief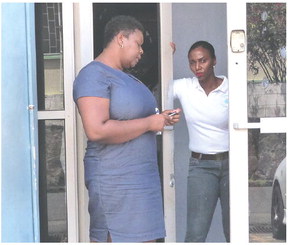 ONE TEENAGER was saved by the bell last Friday as the court debated whether prison or school was the place to send him this week.
Douglas Baptiste was charged before the Kingstown Magistrate's Court that he did on April 14 steal one black cellular phone belonging to Lorenzo Samuel.
Samuel is an employee at 'LA Imports' and was using his phone in the course of his duties at the store. At 12:30 p.m. the defendant entered the store, and asked about the price of printing a T-shirt. The defendant became annoyed when he heard how much it cost, and made comments. After Baptiste had left the store, Samuel realized that his phone was missing. He reviewed the CCTV (Closed-Circuit Television) footage, which showed the defendant removing the phone. Baptiste was tracked down, and although he made no statement, the phone was recovered from a technician.
Senior Magistrate Rickie Burnett began by saying that he could not understand some of the men in St Vincent, "When they can't afford it, they steal to get them."
He noted that the young man was caught via the cameras and stated, "I think it may be a good thing for the businesses in Kingstown to have cameras. It may be a very good thing."
The defendant, in explanation of his actions, told the Magistrate that he had "Got carried away," and "At the time I wasn't thinking."
While saying that he was writing his CXCs (Caribbean Examination Council), he said, "I'm sorry and I'll try to do better because I have exams to go and do."
At this point, Prosecutor Corlene Samuel informed the court that the defendant was going to school, and that he was known to the court.
"Yeah I have his record!" Burnett commented.
Samuel continued, saying that Baptiste had gone to Liberty Lodge Boys Training Centre.
While waiting for the welfare worker affiliated with Baptiste to come, Burnett began to reveal that he may not be inclined to consider lighter options.
"I live in the real world you hear?…Some persons who live on a different planet…they better get used to the reality of life and realize that we're living in different times," he stated, "This year is 2018 you hear? Crime is taking on a different face."
Turning to the defendant's record, Burnett noted, "Look at how many chances you were given…one, two, three, four… placed at Liberty Lodge training Centre…given a tour of the prison… reprimanded and discharged once, twice…three of the four offences were dishonesty."
Two welfare workers, Janeil George and Sherise Durrant, then came to his rescue.
George gave the background of the 18-year-old, informing the court that his mother was deceased and that he has no known father. She said he has family but basically supports himself, that he goes to school, and is scheduled to write his CXCs.
Durrant was also asked for her contribution, and she stated, "To be honest Douglas had a seriously hard time because his aunt who had promised to take care of him basically has turned her back thus far. We'll try to encourage him to stay in school, and we'll try also to give him some support financially."
Not backing down at that time, Burnett told the two, "So clearly, after today he is going back to do what he is doing. I don't pretend about these things you know? I talk things as I know them." He asked them, "Tell me why I should not be hard on him today?"
The two welfare workers weren't ready to give in, "When he is scheduled to do his CXCs it's very unfortunate," said George.
"Is it possible if I am to try and get him enrolled in a program, in which we would receive a small weekly wage?" Durrant added.
Leaving the matter with a last comment to the two Burnett stated, "All that I could say yes to, but if he commits a crime again, I sending the both of you to come back here to watch me," ending, "really and truly it's time enough for him to feel the full weight of the law."
He asked the prosecutor for her opinion, and she indicated, "Prosecution is willing to give him another chance and see what will happen."
With all things considered, the Magistrate decided to reprimand and discharge the youngster.
WELFARE WORKERS Janeil George and Sherise Durrant leaving the court
DOUGLAS BAPTISTE