Posted on
The Monkey Band, Boozi Back and the Bois Bois Man
From the series Almonds and Sunday Dresses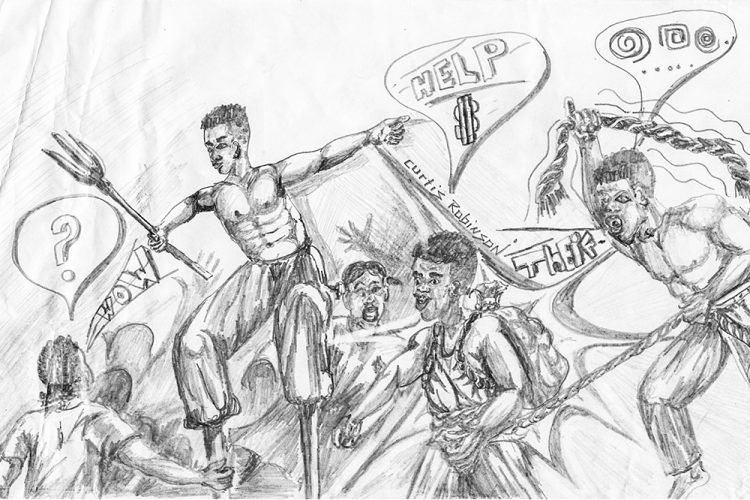 by: Margaret
Sullivan and Nelcia Marshall Robinson
Carnival Monday was both a much looked forward to, and a much feared day. It was old Mas', and strange characters would come out in the village. The Adults would be laughing heartily at the man with a shoebox saying: "Pay me a penny to see the Devil and his Wife". After looking through a peephole, they would withdraw choking with laughter.
The Devil and his Wife might be two lizards, a rat and a mouse, or stick figures made from the 'breadfruit baby'.
We, the children were terrified, when the Monkey Band, Boozi Back and Bois Bois Man appeared. These were villagers who would wait eagerly for that time of year, to give their performance.
Ato and Owusi were brothers, and the good thing that we liked about them, was that they made sure that they entertained the village before going to town on Carnival day. They would visit all the houses in Questelles, and the school as well. Their music had a particular kind of tune as they played the flute and the boom drum.
Ato was tall, dark and imposing. His voice was deep and his flashing white teeth beautiful to behold when he laughed. Owusi was a shorter version of Ato. With faces and skin blackened with charcoal and clothed in crocus bag, the pair would go forth. Owusi would have on his back, a bag stuffed with grass, and he would be led by Brother Ato. As they drew near a crowd, Ato would say "See this bunch of plantain? He tief it from my yard last night. What to do with him? The crowd would shout a number of lashes, and Ato would proceed to beat the bag according to the number. Owusi would leap and snarl as if he was really in pain, and rush towards us to get away, or to beg for mercy. Trembling with fright, we fled. On the one hand, we liked to see Owusi and Ato, but were overcome with fear when they approached us, so we were unwilling to go to school on Carnival Monday.
Then there was Preston, a rather reserved and grim man, who came to life on Carnival Monday as the 'Bois Bois Man'.
He walked on stilts. Dressed in a grass skirt, he would tower above us. We looked on in awe as this giant strutted, wondering whether he would fall on us. I believe that I was more afraid of the Bois Bois Man than the Monkey Band.
Caught between fright and entertainment, little did we know that African descendants were playing out the story of good and evil.
The 'Bois Bois Men" or 'Moko Jumbies" as they are called today, are known as Ancestral Spirits in the West African culture. They stand guard, surrounding the villages, towering above everyone, that they may see everything and protect the village from harm. As the mischievous and frightening Monkey Band and Boozi Back characters advance, so does the Bois Bois Man, ready to protect.