Posted on
Teacher Marshall – 'Old Dads' to his children
From the series Almonds and Sunday Dresses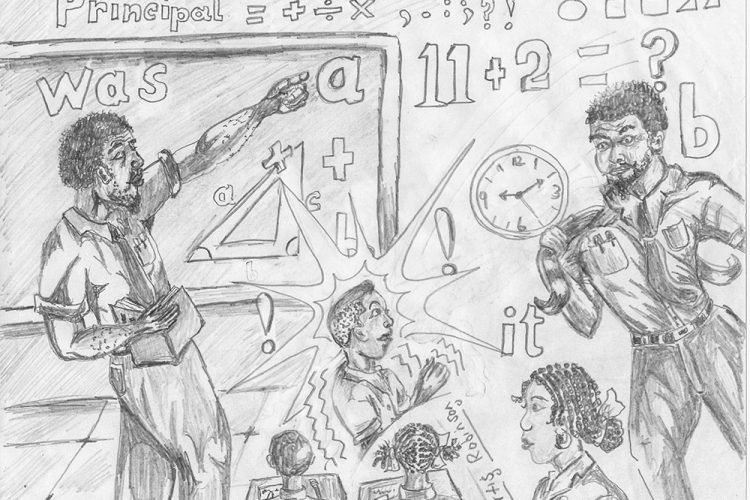 by Margaret Sullivan and Nelcia Marshall Robinson
He was the village Head Teacher, a post of considerable status in the society.  With perfect diction, we the students were drilled in everything from counting from 1 – 100, to singing sacred and classical songs, to penmanship. He never failed to proudly inform us that he was 'ambidexterous' - able to write equally well with his right or left hand.
Every child tried to arrive punctually at school, because Teacher Marshall, strap over shoulder, would be strolling casually to meet the late comers. The strap would be applied as each student ran swiftly by.  When satisfied that every straggler was in the school building, he would return to lead Prayers.
He taught Standard Six, and preparing for the School Leaving Examination was an event in itself, because the person who passed would have the opportunity to join the Teaching Service as a Supernumerary Teacher. I had the dubious privilege of being in his Class, and being his Daughter, so there was no break between lessons at school, and lessons at home, and we were not spared the strap in either place.
Old Dads, the Father and Teacher made sure that our diet consisted of notes and more notes, and commitment to memory.  His teaching strategy and practical examples, were contained in a large Notebook, carefully written in his own hand.  That Notebook seemed to bulge and increase every day, like yeast in dough, as he added more general knowledge, adages, geographical terms and discipline. Even the Names and Birth Dates of our brothers and sisters had to be consigned to memory, to help to build our mental alertness. Our Recitation was a feat to hear, but a pain to perform.
He wasn't OLD DADS then, we would not have dared call him 'Old', for he was young, and from Monday to Friday, dressed in his khaki suit and cork hat, he walked the quarter mile or so to school.  The Bicycle was for longer journeys, like going to Barrouallie for a choir practice, as he played the organ like an angel. He was also a great Dramatist.
He very cleverly dramatized Old Testament stories like Samson and Delilah, and best of all, King Nebuchadnezzar who ate grass like an ox.
In later life when he retired from Teaching, he settled at Rilland Hill, and attended the Anglican Church at Pembroke where he was the organist, using his musical skills in an entirely different way from how he used the Strap.  The keys responded to the beating of his fingers with joyous music that drew the willing and unwilling to Church, if only to hear 'Old Marshie' play. It was only loss of sight that forced him to retire from this happy service. However, since he could 'play by ear', in his solitude, his voice produced the music.
It was at this time that the venerable grey headed man, reclining in his arm chair, smoking his pipe, became affectionately known as "Old Dads".  He displayed great fortitude in his blindness. Of course he was proud to classify himself with Milton, and would often quote:
 
"When I consider how my light is spent
Ere half my days in this dark world
And that one talent which is death to hide
Lodged with me useless though my soul more bent
To serve therewith my Maker, and present
My true account lest He returning chide
"Doth God exact day labour, light denied?
I fondly ask, but patience to present
That murmur soon replies, "God does not need"
Either man's work or is own gifts, Who best
Bear his mild yoke, they serve him best,
His state is kingly
Thousands at his bidding speed
And post o'er land and ocean without rest
They also serve who stand and wait
His view on death and dying was healthy.  He would solemnly say "I saw myself in the Year 2006".  Born in 1906 he declared his intention to live to 100 years.  He fell short by 13 years. Equally solemnly, he would say 'My Bags are packed, and I am ready to go".
Many remember him for his liberal use of the strap. I remember him for his philosophy on life, and overcoming the many weaknesses of humanity that beset him.