Posted on
Weddings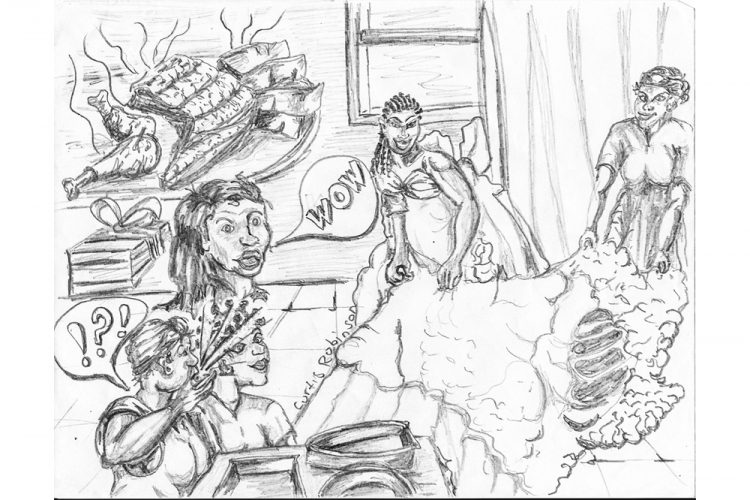 From the series Almonds and Sunday Dresses
by MARGARET SULLIVAN AND NELCIA MARSHALL ROBINSON
HOW CAN WE ever forget those weddings, and the great excitement that accompanied them, from start to finish.
Three months' notice was given for a wedding, and those who had invitations would buy their dress in the first month, the shoes and hat in the second month, while the third month was to pay for the gift, and the hired car.
You see it was the ladies who were on show, the men merely had to bring out their suits and sun them.
Neighbours were busily chatting as to how many eggs they would donate, or which goat, or how many roosters, or which pig would be fattened for the event. How many Cake Pans they could lend, and who had a Star cake pan for the Bride and a Horse Shoe for the Groom!
The Bride's parents, of course, would have had to do some serious research before their daughter's wedding date was set. The Chief Baker in the village would be consulted as to whether she had any bookings for the date proposed, and the date would be confirmed or adjusted accordingly. Likewise the Cake Decorator had to be booked. When there was a difficulty in fixing the date with the Church and the Baker, the Church date would take priority, and alternative arrangements made for the Cake.
If the Bride's parents were quick to ask, they could get assistance from Mrs. Collins, a professional event organizer in the village. She liked to plan weddings, and was always ready and willing to help, most times without remuneration.
There would be the "Whisperers",who would express doubt as to whether the wedding would really take place. Therefore the posting of the "Banns" was eagerly looked forward to. The village gossip would spread the news that the Banns were out at the Court House. Villagers would nod their heads firmly and say, 'It is sealed, and at the St. George's Cathedral, too"!
The most looked for activities in the event were around the Bride. Curious eyes would examine the dress, and careless mouths were sure to voice the faults – it was too tight, the veil too short – what she have marrying in white?
The romantics would praise the beautiful bride.
When the daughter of a prominent seamstress was getting married , all the seamstresses in the area came together to make the dress. We heard that the dress took fifty yards of lace. To this day, I wonder who actually cut the dress, who pinned the lace to the taffeta, who fixed the nylon train, who cut and stitched the appliqués?
The unity of these skilled needle-women produced a design that would rival Princess Diana's dress.
Today, wedding dresses are mostly imported, and the skills of our local seamstresses are under-valued.