Posted on
Dame Maria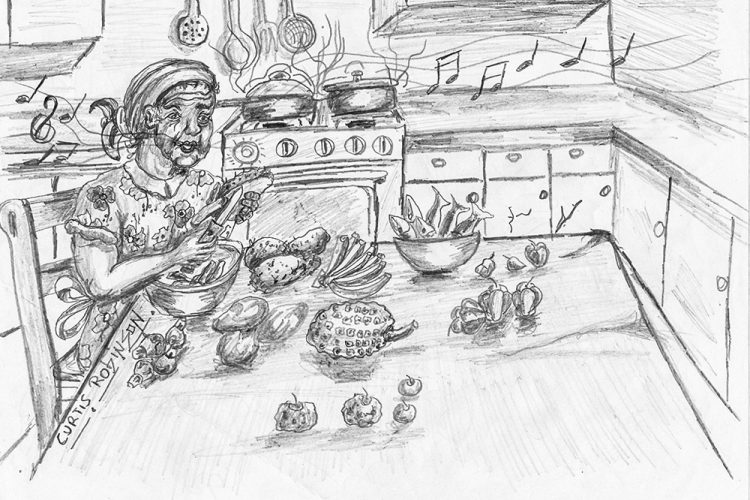 From the series Almonds and Sunday Dresses
By Margaret Sullivan and Nelcia Marshall-Robinson
I WAS REFLECTING on the kind of quiet, gentle, cool, easygoing person Mrs. Marshall was. She was just there being a good mother and wife, keeping house, cooking, doing the laundry and taking care of everybody. I never heard her speak loudly. I never heard her speak an ill word of anyone. She was just a true cancerian, so caring and nurturing.
I remember there was always a share for me, especially at evenings when I stopped on my way home from buying bread. I bought bread for dinner, but I had to have my share of bakes and bush tea at supper time, before I go home. Such delicious bakes and nice tasting bush tea, whether basil or mint, or whatever.
It is such a pity she was unable to continue her career as a Teacher. She would have been a great Teacher, but that was done through her children, so all was not lost.
She raised a community through her 13 children, 66 grandchildren, and 33 great grand children. It was her hands that taught her children to write, and any grandchild who grew up within her home. Her lips taught them to read, and told them of the God with whom she walked. She was a Sweet Singer of Sacred Songs. She would be heard humming Precious Lord Take My Hand, Will the Circle be Unbroken, Depth of Mercy, Can there be, Amazing Grace, Through all the Changing Scenes of Life, As pants the Hart, It is Well with my Soul, Hallelujah for
the Blood, Hark my Soul, it is the Lord, Jesu Lover of my Soul, O Love that will not let me go, Blessed Assurance, O for a closer walk with God, There's a Holy and Beautiful City, When he cometh to make up His Jewels, O for a faith that will not shrink, Redeemed, how I love to proclaim it, My Heart is Fixed, Eternal God.
A marvellous Story Teller, through her the tales of our Ancestors became known. She knew all about Chatoyer and DuValle, and was proud to say her nickname was 'Black Carib'.
She was a Survivor, having lost her mother at a tender age. Perhaps it was this loss and need that fed her tender, strong and compassionate care for her children of three generations, and the children of the neighbourhood.
She was an organizer, delighting her Women's League with her song, drama, and entertainment skills. Her leadership has brought forth many leaders, and her life was transformational.
These were my reflections and thoughts for the day – memories of someone who touched my life in a very unforgettable way.