Posted on
The Spectator and Harold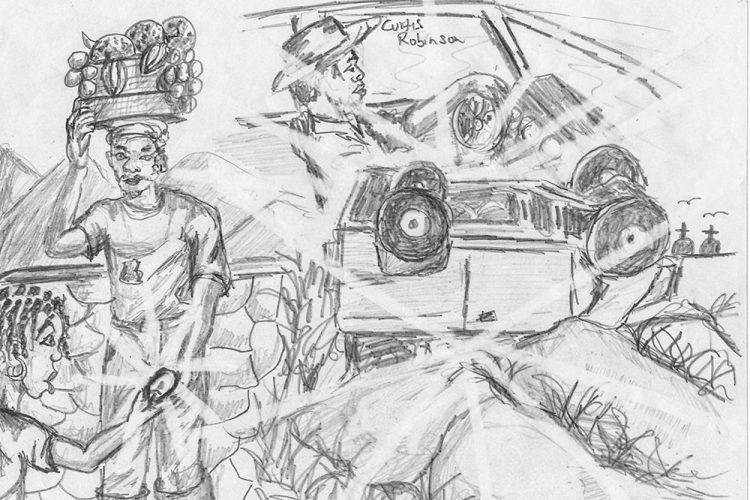 I never eat a golden apple without remembering Harold. He belonged to one of the two families in our village.
Harold was a farmer and would pass our home to go to lands at "Cottage", an old Sugar Estate. On his return, Harold would stop at our gate laden with fruit and ground provisions, and my mother would come out to buy. With a broad grin, he would produce from under dried banana leaves, large luscious, yellow golden apples, jar plums, guavas and bananas. I was fascinated by the golden apples. To my 10-year-old eyes, they were the most beautiful fruit I had ever seen, and the delicious smell of them caused my 'mouth to water'. No matter how much fruit my Mother bought, as long as golden apples were in his basket, Harold would give me one.
One day, wails of anguish went up in the village. There had been an accident. A jeep driven by the "speculator', an important man in the village, had over-turned, and he and his passenger were dead. To my horror, I learnt that the passenger was 'Harold'. 'The Speculator" was not just important, he was a popular and generous man in the community. He was engaged in shipping fruits, vegetables, and animals to Trinidad. He would be greatly missed for his generosity and entrepreneurship from which many small farmers benefited.
I will never forget that funeral – a double one for the village. Mourners moved from one grave to the other, and the grassy graves shook silently as grief filled the air. When "The Speculator's" coffin refused to go down, the grave diggers had to widen the grave, Relatives moaned in shock and villagers trembled, certain that according to superstition, 'The Speculator"' would be walking the earth when he should be safely in his grave. This was especially so as many lamented that he had died before his time.
Harold's coffin went down smoothly. I stood somberly watching as they covered him, remembering his broad grin as he generously shared his gold.