Posted on
John was always open to helping people – 'Patches'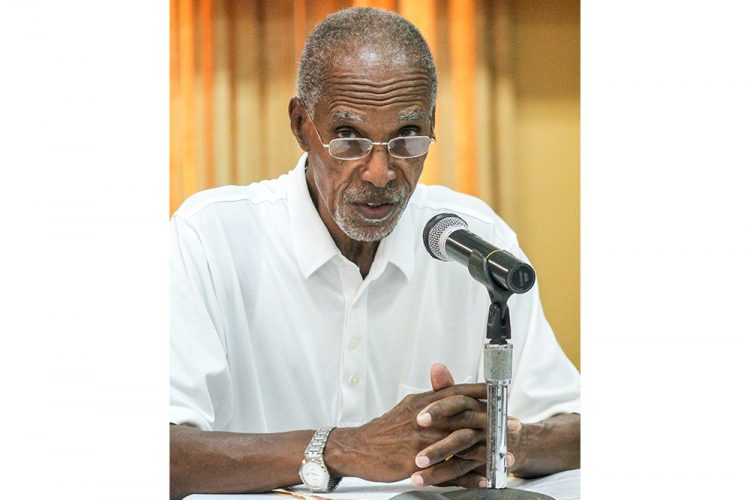 There are not many people who Robert "Patches" Knights / King considers to be his friend.
But John Horne, former parliamentarian and minister of government, had earned that title wholeheartedly.
During a visit to SEARCHLIGHT this week, the calypsonian spoke of the first encounter that he had with Horne, who died on April 22, and how the two had fostered a friendship that stretched over two decades.
Knights explained that he owns a property in Rose Place which was the centre of his projects in the community many years ago as his way of giving back.
And Horne, who was the West Kingstown representative at the time, heard about him and reached out to offer additional help.
"One day out of the blue — this is all before I knew John Horne personally — I got a call, 'Patches Knights, the minister of culture, Mr John Horne sent a message, he would like you to come visit his office'," he recalled. "That was my first personal encounter with John Horne and where our personal relationship began."
He said that from that time, Horne was supportive of the activities he held for the community and sought to help in whatever way he could.
Knights described the former politician as an educated, sophisticated and eloquent individual, who would often check in on him just to see how he was doing.
And he said that Horne was a special kind of man who made him feel like it was "not just a pleasure, but an experience to know him".
"I have never seen the man called John Alexander Clark Horne angry never heard him with a curse word, I never saw it. He would call me in his office for the flimsiest of things – 'Patches, I heard so and so sick. Is that true? We should go visit them' – I talking now when he is out of politics. He was no longer the representative," the calypsonian said.
But as a government minister and constituency representative, Knights believed that his friend was one of the best.
For him, Horne was one of the few men in society who didn't have biases based on one's financial situation, educational background, political affiliation or race.
He said that the parliamentarian was always open to helping people without looking for something in return.
"He was just fulfilling his need to assist and help people less privileged than he was. He would continuously buy school supplies for children. He would continuously help people with financial problems like burials. I've seen it, witnessed it…John Horne has never in my presence asked me, who she is? She vote for NDP? Never, ever," Knights said.
And he said that it was this attitude that earned Horne his respect and admiration and led him to think "that's a man I want to emulate, what a human being!".
Horne was a minister of government with responsibility for Education, Tourism, Trade and Culture at different points over his 17-year tenure, in addition to other portfolios from time to time.
Knights said that the former culture minister was instrumental in re-introducing dancers on stilts back into the carnival festival – a practice he said has since again disappeared from the festivities.
He also said that Horne, who was a carnival enthusiast, would be missed by calypsonians, especially those who received help from him during carnival to have their songs recorded.
The last time Knights saw his friend was a few days before he died. And he said that it was hurtful to see a man of Horne's stature, "powerful, tall, strong and just lying like that helplessly."
Knights' voice broke as he said that he wished Horne could have had more years to impact the society.
"I wish that John Horne could have gotten another 24 years to make him 100. St Vincent would have been better off. And he didn't have to be in Parliament to do the things that he had developed himself to do for ordinary folks. There are few people in society who could emulate a fellow like John Horne; give something without receiving something," he said.
And he said that he learned a lot from Horne on how to be a better human being and he was proud to have known him.
Horne has been accorded an Official Funeral which will take place today.
Official viewing of the body will be at the House of Assembly from 10:00 a.m. to 12:45 p.m. and the funeral service is scheduled for 3:00 p.m. at the St George's Cathedral in Kingstown.