Posted on
Fanfare – From three tents to an array of products for any special occasion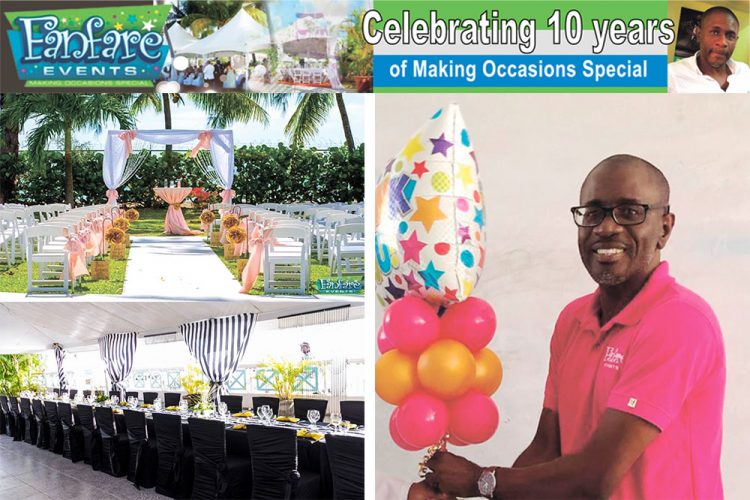 When Fanfare Events SVG started 10 years ago, it offered only event rental services and had in stock only three tents.
Now, in 2019, the small company boasts one of the biggest inventories in St Vincent and the Grenadines (SVG) with all the products needed to make any occasion special.
THE BEGINNING
Alexis John, the owner of Fanfare Events SVG told SEARCHLIGHT that the idea for his business came through what he believes to be divine intervention.
At the time, he was employed at COURTS Ltd as the marketing officer, when he got the idea to venture into the events industry.
"I thought I would've been a marketer all my life and then one day when I was at COURTS, the idea just hit me from out of nowhere to be honest, so what I did, back then I had an office for myself at COURTS. I locked that door and I was saying, God, what you trying to tell me?" John recalled.
It was at this point that he began to do his market research and formulate how he could create a business to cater to the needs of potential clients.
The business owner said he barely slept that week as much of the time was spent calling event companies overseas, looking at their set up and making small steps to start his company.
"I had no capital. I had no big set of money really to get me over that line. In fact, when I visited several financial institutions, they told me, St Vincent and the Grenadines is not ready for this. They don't see it happening and I tried another and they believed in what I said and I was able to purchase three tents from that loan and from there, I have been expanding ever since," John said.
10 YEARS LATER
In addition to Event Rentals, John has also added Event Decor and Design and Event Planning to Fanfare Events SVG's arsenal of services.
Last year, the company also began creating balloon bouquets so that persons could convey special messages to loved ones.
"We decided, you know what, instead of doing things the traditional way of always sending flowers or roses, you could send balloons, you could say happy birthday, congrats, you can say happy retirement or happy anniversary, you could say get well soon …but do it with balloons, both helium and air filled. And since then, it has been going pretty well," he explained.
In fact, when SEARCHLIGHT visited Fanfare Event's office upstairs Bickles on Lower Bay Street, employees were busy creating two "Congratulations!" balloon bouquets.
John said that acquiring an office space two years ago proved to be a game-changer as he started out meeting clients in his car, at restaurants and even on the side of the street.
But now, he has an 11-person team stretched across administrative work, set up and decor and a laundry team, which makes the job easier and more efficient for clients.
The business owner stressed that his company strives to always be the best and have been "doing this in a unique manner" since inception.
He added that when people think of the definition of "Fanfare", they will be able to say that his company lives up to its name.
INVENTORY
Natalia Gill, the office administrator and event coordinator told SEARCHLIGHT that the company continues to grow its inventory and improve the quality of products being offered as well as the experience for clients.
"We have a lot of common studs but we don't bring them in a common way. We have variety," she said.
Gill listed a pallet bar, photo walls and backdrops, seven different types of chairs, tent liners and a variety of tables in the company inventory.
The company owner chimed in to also note that "we are the only company in the business that has the rustic collection with three types of chairs to choose from; bamboo chair, cross back chair and we have a fruit wood chair and we have benches as well to go with that, along with farm tables".
Fanfare Events SVG also recently added sun umbrellas to their inventory, which John said are great for garden weddings, backyard parties and other special outdoor events.
Another addition to the company's arsenal was a glassware collection, which offers wine and rock glasses, water glasses and champagne flutes.
He further teased that other exciting things will be added in the near future.
GRATITUDE IS A MUST
John also told SEARCHLIGHT that he is extremely grateful to the people of St Vincent and the Grenadines, who have supported him from the beginning and have allowed Fanfare Events SVG to grow into what it is today.
"Without the support of this market, it would have never been possible and I have some very, very loyal clients who continue to stay with us, who continue to refer us and recommend us to a number of persons," he said. "I'm grateful, really, really grateful. I have to say special thanks to my parents because they helped me along the way when I just started off. My dad, he's dead and gone but he laid the platform for me to really grow this business. My mom has also played a supporting role so I'm grateful for that."
The entrepreneur also expressed thanks to his past and present employees, who have made doing the work possible.
He further expressed thanks to all the people who chose Fanfare Events, not only for rental services but to also plan and execute their special occasions.
And he remains grateful to the companies as well that have trusted his company to make their events special over the years, and thankful for the support he has and continues to receive from entities such as Mustique Island, Mustique Company Limited, Bank of St Vincent and the Grenadines (BOSVG), Central Water and Sewerage Authority (CWSA), Digicel, Keith Boyea, Slippery When Wet, Hot97, SVG Cricket Association, SVG Brewery, Beachcombers and a number of other corporate houses.
BEST OF SVG
Fanfare Events SVG has carved out such a name for itself in the business, that it was voted Best Event Rentals company in 2017 and 2018/2019 in Interactive Media Limited's Best of SVG awards.
"It just demonstrates that persons are really paying attention to the business, to the brand and I'm really happy about it, two years straight to be considered number one," John told SEARCHLIGHT.
He also said; "of course it makes you happy but it's a sense of achievement as well that hey, we've been working hard as a team and for people voting for us, it shows that our work is being appreciated and that means a lot to us. It really means a lot to us and we do hope that we'll continue winning."
Although bragging rights are earned by winning a Best of SVG title, John said that prefers to let the work done at Fanfare Events speak for itself.
He said his team always wants to execute to the best of their ability and ensure that they have done enough to fulfil the needs and requests of their clients.
So while he accepts the title with utmost humility, "when we put out our work, we want to live our name. That's what the mission is and what it will always be".
A LEARNING EXPERIENCE
The business isn't the only thing experiencing growth, as employees also say that they have been able to grow with the business as well.
Kylah King has been with the company for the last year and deals with the design aspect of the balloon bouquets.
Although she will leave the company.
soon, she told SEARCHLIGHT that the experience has been a worthwhile one.
"I've always been up for trying new things. When I first started, I didn't even know how to do the balloon bouquet, but by looking at other workers, I got to learn and execute quickly," she said.
"It's been nice…giving people something like this because it's different and seeing that you're putting a smile on someone's face, that's a good experience and I love doing that."
Gill, the event coordinator also said that she has learned a lot in the six months that she has been at Fanfare.
She added that it has been a great experience working with clients and co-ordinating events.
"I've learned a lot and I will continue to learn a lot and grow as a person because the work we do, each job that we do, we try to execute differently and better and that in itself helps us to be better at the job," she said.
MOM-OSA
And John credits his team for the great work that is done with every project.
However, he expressed deep regret to the public for not being able to execute Fanfare Event's own signature event in May, which was dubbed Mom-osa.
"It was not a hoax," the business owner said. "We had planned a wonderful Mother's Day event, unfortunately, I have to postpone it. For two reasons, one – we are heavily booked and two, I have to slow down a bit, so unfortunately I have to drop that one."
John said that with Carnival around the corner, the company was extremely booked and while he has a really good team, hosting the event would be too much at this time.
THE WAY FORWARD
But the entrepreneur promises big things in the future.
He said that Fanfare SVG has been and continues to expand and he has made sacrifices from a human resources and financial standpoint to propel the business to where it is today.
"And it is still not the place where I really want to go, we still have a long way to go but we have still come a mighty long way so thanks to God for being there for me and for being my provider, and thanks for past and present employees who have really played a pivotal role to build the brand," John said.
The business owner told SEARCHLIGHT that when he entered the market 10 years ago, he wanted to do things differently and while his company is still small, it has done a lot and will continue to do so in the future.
And maybe, just maybe, Fanfare Events SVG will expand to become not only a local but regional and even international brand.